Languedoc-Roussillon
Resort type:

Country resort

Landscape:

Mountains, Valley, Seacoast, Riverside, Hills, Flora of the Mediterranean

What to do:

Mountaineering, Culinary Tourism, Diving & Snorkelling, Boat Trips, Wellness Tourism, Historical & Architectural Monuments, Gliding & Paragliding, Amusement Parks, Yachting & Sailing, Caves, Fishing & Spearfishing, Safari, Surfing, Windsurfing & Kitesurfing, Thermal & Mineral Springs, Festivals & Carnivals, Shopping, Nightlife, Zoos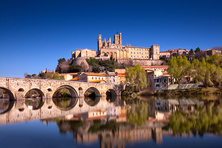 Languedoc-Roussillon is a historical area in France, It is situated in the south of the country not far from Provence. The capital city of the region is Montpellier.
The tourists will have excellent beach holidays in Languedoc-Roussillon. The most beautiful beaches are Gruissan and Cap d'Adzh situated at the foot of an extinct volcano. Sandy beaches of La Grand-Motte are the most popular with the tourists. They can go diving and snorkelling, yachting or kayaking, sailing, surfing, windsurfing, kitesurfing, go on a sea cruise or go fishing. If you want to get a rush of adrenaline, you can try your hand at parasailing or hang-gliding, water skiing and aqua biking.
Take a trip to the large cities of the region such as Perpignan and Montpellier to enjoy historical or architectural monuments. You will see cathedrals, castles and palaces built in the 11th - 17th centuries. A small town Nimes is known for Pont du Gard, Ancient Rome aqueduct which is inscribed on the UNESCO World Heritage list and is the highest in the world.
The city of Carcassonne can boast by its old wine cellars and spectacular bull fights.
The foodies should go on a tour to wine shops or chocolate factories such as Chocolate and Wine Tasting Tours, Events.
The tourists with children will have a great time in Argeles-sur-Mer. Do not go past amusement parks Luna Park and Crazy Jump. In Perpignan, the extreme tourists can go climbing and canyoning on the base of a training centre Deversud.
The best place for shopping is Montpellier. The mall Odysseum is a favourite shopping place of the locals and the tourists. If you cannot imagine your holidays without night entertainments, you can go to such clubs as Loxymore and Rockstore.