Lappeenranta
Resort type:

Country resort

Landscape:

Town, Broadleaf Forest, Lakes, Coniferous Forest

What to do:

Aquaparks, Cycling, Culinary Tourism, Golf, Downhill Skiing, Natural Parks & Reserves, Horse Riding, Wellness Tourism, Amusement Parks, Yachting & Sailing, Fishing & Spearfishing, Surfing, Windsurfing & Kitesurfing, Festivals & Carnivals, Nightlife, Religious Pilgrimage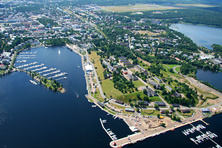 Lappeenranta is a Finnish city and an administrative centre of South Karelia Province. It is situated on the shore of the Saimaa Lake in the south-east of the country close to the Russian border. The total area of the city is over 1.700 square kilometres.
Due to harmonious union of nature and civilisation, Lappeenranta attracts both the lovers of city entertainments and quiet holidays. Picturesque shores of Saimaa attract the lovers of the ecological tourism. The tourists can walk in the groves and natural parks, go fishing, collect mushrooms or berries or walk along the shore of the lake.
The active tourists can go biking, horseback riding, visit an adventure park, an aqua park and play golf. The extreme tourists can try their hand at windsurfing, wakeboarding, water skiing, sailing and yachting.
The tourists with children should not go past the park Myllysaari with amusement rides, a climbing wall and sports grounds.
25 kilometres away from the city is a skiing resort Myllymaki. There, you can go on a snow safari, try snowshoeing or play ice golf. There are also you may need for ice fishing, snowboarding and slalom skiing.
If you prefer to spend a lazy time on the beach, you can do it on the Saimaa shore.
The wellness tourists choose this city because of its green areas, clean air and favourable ecological situation.
Lappeenranta holds a lot of cultural events, celebrations and festivals. The most popular event with the tourists is International Air Show.
The excursion tourists will want to see historical or architectural monuments and visit museums and cathedrals. The pilgrims should visit Lappeenranta Orthodox Church.
The foodies will enjoy traditional Finnish dishes in the local restaurants.
The nightlife is not well developed in the city, but you will find some nice clubs.