Lasko
Resort type:

Country resort

Landscape:

Town, Mountains, Riverside, Hills

What to do:

Cycling, Golf, Downhill Skiing, Horse Riding, Wellness Tourism, Historical & Architectural Monuments, Hiking, Thermal & Mineral Springs, SPA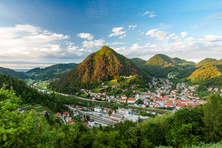 Lasko is a popular thermal resort in Slovenia. It is situated on the shores of the Sava River 70 kilometres away from Maribor and 85 kilometres from Ljubljana.
Lasko Thermana Park is well-known among the lovers of the wellness tourism in Slovenia and neighbouring countries. On the territory of the resort, there are indoor thermal pools. Outdoor pools with healing water the temperature of which can reach +35 °C are recommended for prevention of muskolesceletal and locomotor system diseases. The resort offers a special treating program which includes balneology, the latest advances in climate therapy, wellness treatment and the elements of the Oriental medicine.
There is Wellness Park Lasko, which is an ideal place for family holidays. In the park, there is a hot tub and contrast bathing, water slides or a playground, a pool with artificial waves, sports and massage pools.
Entertainment infrastructure is well-developed in Lasko. The tourists can go on biking tours, do various activities at sports grounds. There is also all you need to play mini-golf, squash and tennis.
Lasko Horse Riding Club will teach you the basics of horseback riding.
Skiing trails and a chairlift attract to Lasko the lovers of alpine skiing.
Those who love excursions can visit an old Celje Castle, which is 7 kilometres away from the city.
Lasko is known not only for its thermal springs, but also for its beer. You can go on a tasting tour to the local brewery Pivovarna Lasko.
If you want to get a rush of adrenaline, you can ride a hot-air balloon in Balonarski Klub Ekopool.
In the restaurant Pavus, you will treat yourself to seafood delicacies.