Leon
Resort type:

City resort

Landscape:

Town, Mountains, Riverside, Hills, Flora of the Mediterranean

What to do:

Culinary Tourism, Downhill Skiing, Ancient Monuments of Civilization, Hiking, Festivals & Carnivals, Shopping, Nightlife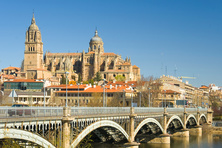 Leon is a city in the north-west of Spain, which is situated on the shore of the Bernesga River. It was built on the Santiago de Compostela pilgrimage route.
Centuries-long history of the region and numerous monuments of ancient architecture make the city one of the main destinations for the excursion tourism. The tourists will see interesting sights and get acquainted with the expositions of the museums of Leon. They will visit the ruins of ancient fortress walls and see amazing buildings on the city squares.
Natural sights in the suburbs of Leon are also popular with the tourists. They like to walk in the beautiful city parks.
Leon is also very popular among the foodies. Cooking meals and food have become a true cult in the city. The tourists can go to different cooking master classes and learn to prepare the dishes inspired by the Spanish cuisine.
If you prefer the event tourism, you can participate in festivals, celebrations, exhibitions and fairs.
The local shops and malls offer a great shopping experience.
Plaza Mayor is a centre of the nightlife in the city. There you will find a lot of bars, clubs and discos.