Limburg
Resort type:

City resort

Landscape:

Lakes, Riverside

What to do:

Aquaparks, Culinary Tourism, Natural Parks & Reserves, Carting & ATVs, Wellness Tourism, Historical & Architectural Monuments, Hiking, Rafting & Kayaking, Festivals & Carnivals, Shopping, SPA, Nightlife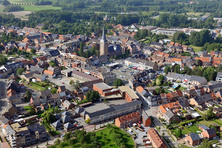 Limburg is a Belgian province with the total size of 2.422 square kilometres. It belongs to Flemish Region. It is situated in the north-east of the country and shares its border with the Netherlands. It neighbours Flemish Brabant Province and Antwerp Province. Hasselt is an administrative centre of the province.
Limburg is a good place for the excursion tourism as there are many legendary historical and architectural monuments. During an excursion tour, the tourists will see Cathedral of Our Lady of Tongeren, Saint Quentin Cathedral, Hasselt Town Hall. Alden Biesen Castle and Ter Dolen Castle are also of a great interest. The tourists will want to see such monks communities as Flemish Beguinages and Belfries of Belgium which are under UNESCO protection.
A UNESCO candidate site is Hoge Kempen National Park. The ecological tourists can walk there and watch the animals. Those who prefer natural sights should visit Hasselt Japanese Garden.
The tourists who come to Limburg with children should go Opoeteren and visit its aqua park Wouterbron.
In the capital city, you can go shopping at such malls as Galerie Albert and Inno Hasselt. If it is the nightlife you are after, then go to the clubs Versuz, Labyrinth and Zoo. Traditional Belgian cuisine is served in such restaurants as De Tafelaer, Vous Le Vous, L'Avenida, and Smaaksalon.
Annual Limburg Hardcore Fest and International Folklore Festival attract a lot of tourists.
The resorts of Limburg attract the wellness tourists where they can improve their health and well-being. Radisson Blu hotel has a wellness centre, which offers spa treatments.
The lovers of the extreme tourism can go alpine skiing or snowboarding in Snow Valley centre. Kayaking tours, group hiking tours and four-wheeler rides are arranged for the tourists.