Limerick
Resort type:

City resort

Landscape:

Town, Riverside

What to do:

Cycling, Culinary Tourism, Natural Parks & Reserves, Wellness Tourism, Historical & Architectural Monuments, Gliding & Paragliding, Hiking, Sport Tourism, Rafting & Kayaking, Fishing & Spearfishing, Surfing, Windsurfing & Kitesurfing, Festivals & Carnivals, Shopping, SPA, Nightlife, Zoos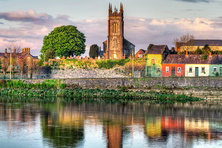 Limerick is an Irish city situated on the River Shannon in the west of the country. It belongs to Limerick County and Munster Province. The city is 100 kilometres away from Cork and 200 kilometres away from Dublin.
Those who prefer the excursion tourism come to Limerick to get themselves acquainted with the historical and architectural monuments or just to walk around the city in honour, of which a form of poetry was named. The tourists will see King John's Castle, Cathedral of Saint Mary and Bishop's Palace. An excursion tour around the county includes a visit to Adare Castle, Askeaton Friary and Glenstal Abbey.
The extreme tourists will get a rush of adrenaline from rafting, rowing, hunting, horseback riding, fishing and biking. You can also go windsurfing or kitesurfing on the River Shannon. The active tourists also like go hiking, paragliding, hang-gliding and rope jumping. Exciting kayaking tours are arranged for the tourists.
The lovers of the event tourism should plan their journey to have a chance to participate in saint Patrick's Festival.
Picturesque landscapes of the suburbs make them attractive for the ecological tourists. In the Animal Magic Zoo, you can not only watch the animals but communicate with them. Do not miss a chance to walk in Knockpatrick Gardens.
Limerick has quite an active nightlife. There are such clubs as Icon and Black Swan. You will have a good shopping experience in the malls Crescent, Parkway and Arthur's Quay. Such restaurants as Curragower, Cornstore, Copper Room and Treasury offer the Irish cuisine.
Favourable ecological situation and moderate physical activities have a positive effect on the well-being. In the hotels Absolute and Limerick Strand, there are wellness centres offering relaxing or toning spa treatments.