Linz
Resort type:

City resort

Landscape:

Town, Mountains, Broadleaf Forest, Riverside, Coniferous Forest

What to do:

Golf, Natural Parks & Reserves, Casinos, Historical & Architectural Monuments, Hiking, Festivals & Carnivals, Shopping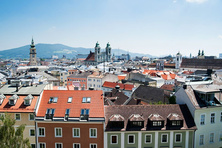 Linz is a large city in Austria. It is the capital city of Upper Austria, one of the Federal states of the country. It is situated in the north-west of the country on the both shores of the Danube River.
This resort attracts the lovers of city entertainments and the excursion tourism. In Linz, there are many architectural and cultural sights. The most visited place in the city is Hauptplatz and Poestlingberg Pilgrimage Church in Linz. To see as many interesting sights as possible, you can take a ride on Linz City Express.
The tourists can visit Upper Austrian Regional Museum and Ars Electronica Center. In the centre, you will see 3D models of our future.
If you prefer to spend the time out of the city, you can go climbing and hiking in Hohe Tauern National Park.
Make your stay in the city even more interesting and play golf or tennis. Go to Casino Linz to try your luck in gambling. Rack your brains in exciting escape rooms.
All the year round, Linz holds various festivals, which attract the lovers of the event tourism. One of the most popular is the festival of street performances Pflasterspektakel.
The favourite shopping places for the locals are Plus City and Arkade. If you want to come to Linz for May holidays, you will have a chance to visit Linz Flea Market.