Litomysl
Resort type:

City resort

Landscape:

Town, Broadleaf Forest, Riverside, Coniferous Forest

What to do:

Culinary Tourism, Natural Parks & Reserves, Horse Riding, Wellness Tourism, Historical & Architectural Monuments, Gliding & Paragliding, Hiking, Sport Tourism, Fishing & Spearfishing, Festivals & Carnivals, Shopping, SPA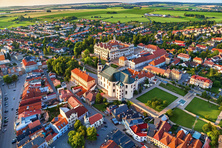 Litomysl is a Czech city with the total area of 33 square kilometres in Svitavy, Pardubice Region. It is situated in the east of the country. It is situated in the eastern part of the country. The city is 90 kilometres away from Brno and 160 kilometres away from Prague.
Thousands of lovers of the excursion tourism come to Litomysl to enjoy the atmosphere of an old city and to see its main sight Litomysl Castle. Under UNESCO protection, this palace complex is a unique example of the Renaissance architecture. The tourists should definitely take a walk across Litomysl Main Square and visit Portmoneum Museum. Excursion tours across the region are also arranged for the tourists. They will see Pardubice Town Hall, Lichnice Castle, Slatinany castle and Stradov Castle.
Amazing landscapes of the suburbs of the city attract the ecological tourists. They can walk in the forests, go on picnics at Netrebsky Pond, collect herbs and go fishing.
The tourists can stay in such hotels as Zlata Hvezda and Aplaus. There are no large malls in the city. You should go shopping to Pardubice at Grand Pardubice mall. Such restaurants as Bohem, Veselka, Maly Svet and U Medveda serve traditional dishes inspired by the Czech cuisine.
The lovers of the event tourism come to Litomysl to participate in a grand opera festival Smetana's Litomysl. It was held for the first time in 1949.
The wellness tourism will feel a positive effect on their health thanks to staying outside and breathing fresh air. In the hotels Dalibor and Aplaus, there are wellness centres offering toning or relaxing spa treatments.
At night, you can go to the clubs Kotena and Roxet.
To make your holidays unforgettable, you can try paragliding, parachuting, horseback riding or rope jumping. The tourists can also try their hand at climbing and canyoning in the Orlicke Mountains.