Aragonese Pyrenees
Resort type:

Ski resort

Landscape:

Mountains, Valley, Broadleaf Forest, Lakes, Coniferous Forest, Flora of the Mediterranean

What to do:

Mountaineering, Cycling, Culinary Tourism, Downhill Skiing, Mountain Trails, Natural Parks & Reserves, Wellness Tourism, Historical & Architectural Monuments, Hiking, Fishing & Spearfishing, Snowboarding, Thermal & Mineral Springs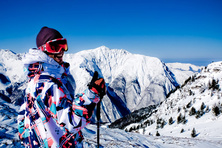 The Aragonese Pyrenees is a central part of the mountain range located in the Aragon Autonomous Community on the north of the country. In this area, there are the highest peaks of the Pyrenees such as the Monte Perdido, the Aneto Mountain, the Posets Mountain, the Perdiguero Mountain, and the Espadas Peak.
The ski resort is very popular among the lovers of extreme tourism. The best children-friendly resort is Astun with its well-developed touristic infrastructure and advanced lifts. Professional skiers and snowboarders choose Boi Taull. The resort Candanchu will fit everyone as it has ski runs of all the levels of difficulty. 
If you come to the Aragonese Pyrenees in summer you can go fishing, climbing, rafting, kayaking trekking, and mountain biking.
The ecological tourists are attracted by the Pyrenees landscapes which combine forests, valleys, and cliffs. The tourists can visit the national reserve Aiguestortes i Estany de Sant Mauricio where there are waterfalls and glacier lakes.
In the suburbs of Zaragoza, you will find mineral and hot springs. The most popular among the tourists are  Virgen, Termas Pallares, and Paracuellos de Jiloca.
If you cannot imagine travelling without excursions you can see some historical and architectural monuments. For example, the Loarre Castle, the Santuario de Torreciudad church, and the Aljaferia Palace.
We recommend all the foodies go to La Senda or Celebris.
At night, you can go to a bar or a disco in the hotels.