Lorraine
Resort type:

City resort

Landscape:

Mountains, Valley, Broadleaf Forest, Lakes, Riverside, Coniferous Forest

What to do:

Culinary Tourism, Downhill Skiing, Natural Parks & Reserves, Wellness Tourism, Historical & Architectural Monuments, Thermal & Mineral Springs, Festivals & Carnivals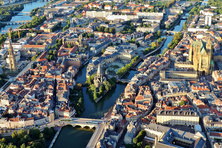 Lorraine is a region in the north-east of France. It borders Germany, Belgium and Luxembourg. The administrative centre of Lorraine is Metz. The region consists of 4 departments: Meuse, Meurthe-et-Moselle, Moselle and Vosges.
Rich in historical events, Lorraine attracts the lovers of the excursion tourism. During their trip, they will see a lot of historical or cultural monuments and architectural sights.
A picturesque nature of the region and its national parks make it a popular region with the ecological tourists. Seven National Park is an acknowledged biosphere UNESCO reserve. Massif des Vosges, rivers and lakes in the region are ideal for various sports activities. Courchevel in the French Alps is a true paradise for the fans of alpine skiing.
The wellness tourists should not go past, such thermal centres as Dun-les-Bains, Vittel and Contrexeville.
Numerous festivals are held in the region and attract many tourists.
Those who prefer gastro and wine tours will surely be delighted by their journey to Lorraine. The foodies will discover many new dishes.