Luoyang
Resort type:

City resort

Landscape:

Town, Mountains, Riverside

What to do:

Culinary Tourism, Golf, Ancient Monuments of Civilization, Natural Parks & Reserves, Wellness Tourism, Historical & Architectural Monuments, Gliding & Paragliding, Hiking, Rafting & Kayaking, Festivals & Carnivals, SPA, Nightlife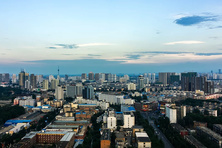 Luoyang is a Chinese city and a city district in Henan Province situated on the shores of the Luohe River in the central part of the country. The total area of the district, including 6 regions and 8 counties, is over 15.000 square kilometres. It borders Zhengzhou.
This is one of the most important centres of the excursion tourism in China and it attracts the tourists with its numerous historical or architectural monuments. The tourists can see the exposition in Luoyang Ancient Tombs Museum, visit such spiritual places as Guanlin and White Horse. The main sight in the district is a temple complex Longmen Grottoes inscribed in the World Heritage List of UNESCO. The tours are arranged to such UNESCO sites as Yinxu Archaeological Site, Historic Monuments of Dengfeng and Grand Canal. Not far from the city is a legendary Shaolin Monastery.
The ecological tourists can take a walk along the Luohe River, go to Nuahasan National Park, Luoyang National Peony Garden и China National Flower Garden.
The local malls Runfeng, Luoyang Costume and Songxian Market invite everyone to make purchases.
The district holds many festivals and celebrations popular with the guests of the district. One of the most spectacular events is an Asian Market Festival.
There is a great choice of activities for the extreme tourists such as rafting, kayaking, parachuting, paragliding and trekking. In Golden Golf Hotel, there is a goof field for playing golf.
On the territory of Quanjude Hotel, you will find a wellness centre offering spa treatments and massage. It also has a sauna, a pool or a hot tub.
The foodies will have a chance to try traditional Chinese dishes in such restaurants as WangFu Yu HuaYuan, Lao Luo YangMian Guan and Quanjudue.
At night, bars and clubs open their doors. You will have a fun time in Luoyang Royal Night Club, Blue Golden Bar and Asia Disco Club.