Luhacovice
Resort type:

Country resort

Landscape:

Town, Mountains, Valley, Mixed Forest, Coniferous Forest, Hills

What to do:

Cycling, Golf, Horse Riding, Wellness Tourism, Historical & Architectural Monuments, Hiking, Fishing & Spearfishing, Thermal & Mineral Springs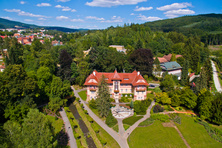 Luhacovice is a unique resort city in the Czech Republic. It is well-known beyond the country for its healing thermal and mineral springs. The city is situated in the southeast of the country in Zlin region and belongs to a historical region South Moravia. The resort is 300 kilometres away from the capital city Prague.
Located in a picturesque valley of the White Carpathians, Luhacovice attracts the tourists from all over the world with its clean air and mineral springs. Due to its natural diversity and a well-developed touristic infrastructure, this resort is an ideal place for a family holiday. The local spa resorts specialize in children therapy.
The city amazes not only with its fantastic nature, but also with its unique city architecture. The author of the buildings in the city is a famous architect Dušan Jurkovič. His buildings combine the elements of modern with Slavic motives. The most popular building in the city is House of Jurkovich which is now a fashionable Jurkovicuv Dum Wellness Hotel.
The tourists can combine spa treatments with various activities. They can go hiking, biking in the picturesque suburbs or go horseback riding. In the Luhacovice Reservoir, one can go fishing or boating.
In the city, you will find indoor pools, fitness clubs, tennis courts and golf fields, bowling alleys.
If you cannot imagine your holidays without excursions, take a trip to Uhersky Brod which preserved Baroque style temples and an old fort. Castle Kromeriz will make a great impression with its Archbishop palace surrounded by the English garden. The tourists will see Buchlov Castle and a huge arboretum.