Lugo
Resort type:

City resort

Landscape:

Town, Mountains, Riverside, Hills, Cliffs, Flora of the Mediterranean

What to do:

Natural Parks & Reserves, Wellness Tourism, Historical & Architectural Monuments, Hiking, Thermal & Mineral Springs, SPA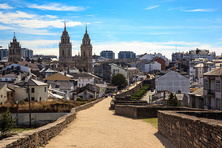 Lugo is a city and a centre of Lugo Province, situated in the northwest of Spain on the shore of the Mino River. It belongs to Autonomous Community of Galicia.
An interesting history of the region and old historical and architectural monuments attract to Lugo the lovers of the excursion tourism. Practically all study tours around the city start with a visit to a fortress wall Lugo Ramparts which is inscribed in the UNESCO World Heritage List. Archaeological Museum in Lugo has an exposition describing the Roman period.
The resort can boast of amazing nature and picturesque landscapes. A huge part of the province is occupied by the mountains extending to the Rias Altas coast. Lugo is a great destination for the ecological tourists. They can visit the Cantabrian Mountains or go hiking along the shores of the Lor River. The routes include visits to medieval castles and churches, Celtic fortifications and traditional Galician dwellings. There are many reserves in the region as well.
The tourists like to walk along the streets and in the parks in Lugo. The most interesting place is a city park Rosalia de Castro. There is a viewing platform offering a fantastic view on Lugo and its suburbs. The wellness tourists can go to a wellness centre. The waters in the local springs are good for preventing and treating skin diseases, respiratory organs or cardiovascular system disorders.
The restaurants and eateries in Lugo offer the best dishes inspired by the Spanish cuisine.