Lund
Resort type:

City resort

Landscape:

Town, Broadleaf Forest, Lakes, Riverside, Mixed Forest, Coniferous Forest

What to do:

Cycling, Culinary Tourism, Golf, Natural Parks & Reserves, Wellness Tourism, Historical & Architectural Monuments, Hiking, Rafting & Kayaking, Fishing & Spearfishing, Shopping, SPA, Nightlife, Religious Pilgrimage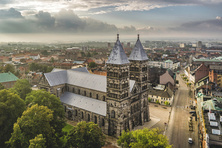 Lund is a Swiss city and a centre of Lund Commune in Skane County. It is situated in the south of the country not far from the coast of the Oresund Strait. It is 18 kilometres away from Malmo. The total area of the city is 25 square kilometres.
Founded in the 1st century A.D., this city is a popular destination for the excursion tourism. Thousands of tourists come to Lund to see its historical and architectural monuments. During your walk around the city, you can see Svenstorp Castle, the ruins of Saint Mary Minor and Botanical Gardens, visit Drotten's Archaeological Museum or Museum of Cultural History. The pilgrims should definitely visit Lund Cathedral and All Saints Church.
In the suburbs of the city, there are Vastersjon, Arriersjon and Tollerupsjon lakes. People come there for fishing and boat trips. The ecological tourists should go to the Baljanea and Ronnea rivers, go on a trip to Soderasens National Park, which is 43 kilometres away from the city. If you prefer to relax on the beach, you should go to Malmo and its Ribbersborg Beach.
In Lund, there is one of the largest Universities in the country which makes the city a centre of the educational tourism.
Th active tourists can play golf in Lunds Akademiska Golfclub and Varpinge. The extreme tourists can go biking, rafting, kayaking and trekking.
A good ecological situation in the commune attracts the wellness tourists. A wellness centre Destress offers a massage course and spa treatments.
You can take part in an annual Lund International Fantastic Film Festival.
The restaurants Mat & Destillat and Buljong serve the Swedish cuisine.
Such malls as Nova Lund and Nova Kopcentrum invite everyone to make purchases.
At night, the bars T-Bar and Herkules open their doors.