Sweden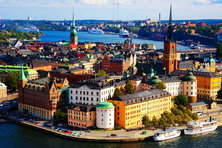 The Kingdom of Sweden is one of the countries of the Scandinavian Peninsula in the Northern Europe. It borders Finland and Norway. Sweden is washed by the waters of the Baltic Sea and the Gulf of Bothnia. Two islands in the Baltic Sea Öland and Gotland are also part of the Kingdom.
The climate of the country is mainly temperate, so any season is good for visiting Sweden. However, northern territories of the Arctic Circle have subarctic climate. The weather in this part is unique: hot summer, severe winter and rainy spring and autumn. On summer days the temperature can reach  +25 °C and in winter it can be as cold as -20 °C. Tourists come to Sweden both in winter and in summer.
The official language of the country is Sweden but almost all people in Sweden speak English. The majority of the Swedes are Christians.
If you like skiing, go to Åre and Sälen. These skiing resorts provide good facilities both for experienced sportsmen and those who just learns snowboarding and alpine skiing.
Those who like city entertainments can visit Stockholm, Göteborg and Malmö. Tourists can go shopping there and see historical and architectural monuments.
Don't ignore Sweden if you like beach holidays: you are going to have a wonderful time in Helsingborg and Öland Island.
You can also have a country excursion to Luleå, Harads and Värmland.
On the territory of Sweden there are several dozens of national parks. People in Sweden respect and treat with much care their natural heritage and they are proud to demonstrate it to the tourists. National parks are evenly distributed on the entire territory of the Kingdom from Lapland to Stockholm and its Royal Ecological Park.
You will be impressed by the famous Øresund Bridge which runs nearly 8 km from Swedish Malmö to Danish Copenhagen. Öresundsbron has a 4-line highway and double-track railway running through Øresund.  
Get in
By Plane
Tourists from Russia can easily get to Sweden by plane. The company SAS, Aeroflot and Pulkovo airlines offer flights from Moscow and St. Petersburg. SAS offers direct flights from all the CIS capitals.
Sweden is a country member of EU and has good air communication with all the countries in the Eurozone.
By Ferry
European tourists can get to Sweden by ferry. A ferry service connects Sweden with Denmark, Great Britain, Norway, Germany, Poland, Lithuania, Estonia and Latvia. 
Tallink Silja Line offers the route Helsinki – Stockholm, Tallinn – Helsinki, Tallinn – Stockholm, Turku – Stockholm and Riga – Stockholm. Viking Line has such routes as Helsinki – Stockholm, Turku – Stockholm, and Tallinn – Helsinki.
Finnlines offer a ferry service between Naantali – Långnäs – Kapellskär. For people from Russia, the company ST. PETER LINE offers the route St. Petersburg – Helsinki – Stockholm – Tallinn. 
Road Trips
Since 2001 Sweden is connected with Continental Europe by the  Øresund Bridge. 
Cuisine
Sweden has an international reputation of a gourmet-country. Traditional home-style Swedish dishes (husmanskost) may seem too simple in comparison with haute cuisine in other European countries. But a great variety of delicious specialties called husmanskost will dispel any doubts and you will understand that Sweden is a real paradise for food lovers.
Of course, the Swedish cuisine is associated with Swedish smörgsbord which is a number of small hot and cold dishes served buffet-style. Traditional Swedish smörgsbord includes pickled fish (usually, herring), smoked eel, juicy roast beef, fish or meat in aspic, boiled potatoes or Janssons frestelse (traditional Swedish casserole made of potatoes, onions, pickled sprats, bread crumbs and cream) and Churt-boolar (very small meatballs). Swedish chefs particularly love to cook fish and seafood. No other country can compete with Sweden in terms of the number of ways of cooking salmon and herring. Surströmming or fermented herring is a peak of the Swedish cuisine. This unique specialty is prepared by fermenting herring and people eat it only in the open air due to a specific smell of the fish. 
Swedish cuisine is different from the European one but inside the country there are local differences. Each region has its own unique dishes. For example, in the north tourists will be served Pitepalt (a pork roll stuffed with potato dumplings). In the south, tourists can try Pytt i panna which is diced and fried potatoes with eggs, meat or ham. Do not miss a chance to try Strömming or Atlantic herring on the east coast of Sweden.    
Sweden has such a nickname as "milk" Kingdom. The country is known for its great variety of milk products. The Swedes like lapper-milk, yogurts and delicious cheeses. The attitude of the Swedes to alcohol is negative and there are certain restrictions on selling alcoholic drinks. However, tourists can enjoy Glogg which is a Swedish version of Glühwein  and it is usually served for Christmas. 
Details of interest
Sightseeing in Sweden
In Sweden, there are fifteen objects inscribed on the UNESCO World Heritage List. Being in Sweden, do not miss a chance to see some of these amazing places.
Royal Domain of Drottningholm is an example of beautiful palatial architecture inspired by Versailles. Its location on the Malaren lake is also unique.
Archeological sites of Birka and Hovgården is the Vikings' heritage. Hogvarden was a residence of Konungs and Birk was a trading place.
Engelsberg Ironworks is a leading manufacturing object of the end of the 19th – the beginning of the 20th centuries. Now this is an open-air museum and all the mechanisms are in a working condition.
Go to the north of Sweden to see wonderful Laponian Area and you will find yourself in the world of polar and white nights, aurora borealis, deers, always energetic huskies and indigenous Sami people.
Rock Carvings in Tanum are petroglyphs near the commune Tanum. They were discovered by Åge Nilsen in 1972.
Legendary  Skogskyrkogarden in Stockholm is a unique urban cemetery in the capital of Sweden.
Hanseatic Town of Visby is an ancient cemetery of the Vikings on the Gotland island.
Gammelstadt is a true Swedish church town.
Karlskrona is a military naval port.
Kvarken Archipelago is a unique rural landscape of Southern  Öland.
Grimeton Radio Station in Varberg was built in 1922-1924 and it is an amazing monument of engineering art of the 20th century.
In the city of Falun, tourists can visit the Mining Area of the Great Copper Mountain. This is a Scandinavian monument of the smelters. 
Struve Geodetic Arc.
Decorated Farmhouses of Halsingland.
Swedish Souvenirs
Visiting the museums in Stockholm, Göteborg and other cities, pay your attention to small souvenir shops on the museum territory. Tourists can buy colorful postcards, local crafts and charming souvenirs.
Shopping in Sweden is quite expensive but both children and adults will be happy to buy toys of Karlsson and Pippi Longstocking which are known to all of us since childhood.
One of the Swedish symbols is a wooden Dala Horse which can be bought in Malmo.
Legends about the Vikings are an essential part of the Swedish history and in any souvenir shop you will find T-shirts with the Vikings and horned helmets.