Llivia
Resort type:

Country resort

Landscape:

Town, Mountains, Broadleaf Forest, Coniferous Forest

What to do:

Cycling, Culinary Tourism, Historical & Architectural Monuments, Hiking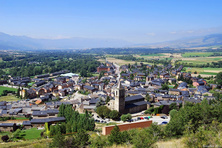 Llivia is a small Spanish resort town attracting people who prefer calm and fuss-free holidays. Llivia is a Spanish municipality and belongs to Girona in Gerdanya region. It is also a member town of Catalonia. The city is surrounded by the French territory on all the sides, namely by Pyrenees-Orientales. That is why it is considered to be a Spanish exclave on the French territory.
This hospitable town is situated on the Carlit Pic. It was built in the Medieval times at the foot of a magnificent palace. Now the palace is in ruins. The ecological tourists choose Llivia because of its picturesque landscapes, rich forests, ponds and meadows. They will enjoy the fresh air and amazing views.
This town also attracts those who prefer the excursion tourism. Go walking or biking in the historical centre of Llivia and you will learn about the Medieval past of this place. The tourists will see Bernat de So Tower, which in the past was a place for keeping the prisoners. Another interesting sight is Church of Seniora de los Angeles built in the 16th century.
One cannot leave Llivia without visiting its hallmark sight, Municipal Museum Esteve Pharmacy which has been recognized the oldest pharmacy in Europe. The building was built at the beginning of the 15th century and now it is open for the excursions. The tourists will see ceramic Albarelli jars, old drugs, laboratory devices and a collection of pharmacy books.
Llivia is a small town, but it can offer the most comfortable holidays for its guests. There are cozy hotels to everyone's taste. The foodies will be delighted by the number of fashionable restaurants serving fantastic dishes of the Spanish, Italian, Mexican and even Asian cuisines.