Mavrovo
Resort type:

Country resort

Landscape:

Mountains, Valley, Canyon, Broadleaf Forest, Lakes, Riverside, Coniferous Forest

What to do:

Mountaineering, Culinary Tourism, Downhill Skiing, Mountain Trails, Natural Parks & Reserves, Wellness Tourism, Hunting, Gliding & Paragliding, Hiking, Sport Tourism, Rafting & Kayaking, Snowboarding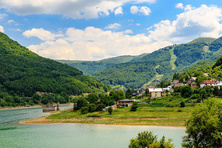 Mavrovo is one of the largest national parks in Macedonia, situated close to the Albanian border in the west of the country. The total area of the park is over 73.000 Ha and on its territory, there are the Shar Mountains, the Desat Mountains, the Korab Mountain Range, the Krchin Mountains and the Bistra Mount.
On the territory of the national park not far from the village Mavrovo and the Mavrovo Lake, you will find the best in the region skiing resort Zare Lazarevski. The extreme tourists can go snowboarding, slalom or speed skiing. There are illuminated areas for night skiing.
Summer activities include hang-gliding, rafting and kayaking, climbing, mountain trekking, fishing, hunting.
Thanks to diverse landscape, flora and fauna, Mavrovo is a popular centre of the ecological tourism. The tourists can watch chamois and peregrine falcons. Do not miss a chance to walk along the Pena River or take a boat trip along the Mavrovo Lake.
In the park, you will not find any significant historical and architectural monuments. However, you can go on a trip to such neighbouring cities as Gostivar and Kicevo. There you will see Saint Jovan Bigorski Monastery and Kitino Kale Fortress.
If you want to go shopping, you should go to Skopje, which is 95 kilometres away from the park. In the capital city, you will find Skopje City Mall, Ramstore and Capotil Mall.
A good climate and a clean air have a positive effect on the health and it attracts the lovers of the wellness tourism.
A restaurant Mal Odmor in the village Mavrovo or Taverna Cami in Debar offer the Mediterranean and Greek cuisines.
If it is the nightlife you are after, then Go to Gostivar or Kicevo.