Macedonia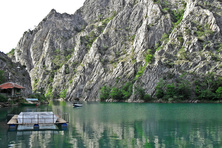 Macedonia is a mountain country on the Balkan Peninsula in the Southeastern Europe. It shares its border with Bulgaria, Greece, Serbia, Albania and Kosovo. The capital of Macedonia is Skopje.
Macedonia has three climatic zones:
continental with severe winters (the temperature can reach 15°C) and hot summers (up to 40 °C);
mountain climate with a long winter and short cool summer;
Mediterranean climate with soft winter and hot summer.
The best time for spending holidays in Macedonia is spring or early autumn.
The population in Macedonia are the Macedonians, the Albanians, the Turks, the Gypsies and the Serbians. Around 70% of the population are the Christians, 30% are the Muslims, Protestants and Catholics. The official language is Macedonian.
Macedonia is a perfect place for active holidays in the country. Mountains and deep lakes are ideal for fishing, rafting, climbing, trekking and hiking. Macedonia in winter is a popular ski resort.
The capital city was founded during the rule of the Roman Empire and some ancient monuments still remained here. Skopje is the city for those tourists who like to spend their holidays and learn something new about the history of the country studying historical monuments and architecture. The most popular Macedonian resort is Ohrid. This touristic center is located near the Ohrid lake which is the most ancient lake in the world. A ski resort Mavrovo near the mountain Bistra has all the facilities for winter sports. For city entertainments and festivals of poesy, go to the city of Struga where the poets read the poems from the bridge. 
Get in
A flight is the most convenient way to reach Macedonia.
By Plane
It will take you 5 hours and 40 minutes to get from Moscow to Skopje with a stop in Belgrade or Vienna. A cheaper but longer route is to get to Thessaloníki, Greece first and then go by train to Macedonia. A train trip will take you 3-4 hours. You will need a Schengen visa for this route.  
By Train
The train is a long and expensive way to get to Macedonia. You will have to go through two other countries (Hungary and Serbia). Transit trains between Macedonia and Greece and Serbia run three times a day.
You can also go to Macedonia by train from Kosovo. The train runs from Priština in Kosovo to Skopje and the travel time is three hours. 
By Bus
International buses run between Macedonia and Serbia, Bulgaria, Greece, Albania and Turkey.
By Car
The citizens of CIS and EU countries can go to Macedonia by bus.
Be aware that you may face some problems crossing the borders of Macedonia and Kosovo.
Visa
Macedonia is a country which has signed the Schengen Agreement.
The tourists need to obtain a visa in consular departments of Macedonian embassies in the Russian Federation.
The tourists from Russia, Ukraine, Azerbaijan and Kazakhstan can stay in Macedonia without a visa for ninety days during half a year. 
Customs
Planning your trip to Macedonia, make sure you know the rules of importing and exporting goods to the country.
You can export and import foreign currency in any amount but it is prohibited to  export and import Macedonian denars.
You can bring to the country without paying duty fee:
alcohol and tobacco;
foods, perfume and clothes for personal use.  
You must declare:
objects of cultural and historic value;
devices and sports equipment (only one item for each person).
It is strictly prohibited to import:
gold (except personal gold jewelry);
objects of high cultural and historic value.
If you are planning to take your pets to Macedonia, you will need to submit a rabies vaccination certificate.   
Cuisine
National Macedonian cuisine was under a great influence of Serbian, Bulgarian, Greek and Turkish cuisines. The main ingredients of the dishes are meat (mutton and pork), vegetables and spices.
One of the most popular dishes in Macedonian restaurants is Turkish chopped meat. For breakfast, you will be offered Börek, a meat and cheese pie. We recommend trying a classical local dish Gravče na tavče, pan-fried beans.
Do not leave Macedonia without trying Baklava with jam Slatko and fluffy rice pudding Sutliyash. If you happen to be Charshiya, you should know that many Muslims live in this place. Here, they distinguish between male and female coffee. The most popular dish is Kebab (mutton patties).
Macedonian chefs stuff and pickle vegetables, serve them fresh and use for salads. Try a traditional Macedonian tomato salad with beans and paprika Ajvar and Zarzavat, shopski salad popular in eastern Macedonia.
Macedonian vodka Rakija has taken something from Georgian chacha and Italian grappa. Actually, this is a fruit moonshine. The most popular are grape and plum Rakija, then goes apricot Rakija. In Macedonia, they like Turkish wines. 
Money
The official currency in Macedonia is denar.
You can exchange foreign currency at banks and in exchange offices. Banks are open six days a week with a day off on Sunday. In Macedonia, you can pay only with denars.
Traveler's checks can be easily exchanged in banks without a commission. Credit cards (Visa, MasterCard and American Express) are accepted only in large hotels and supermarkets. You can obtain cash in any bank. 
Details of interest
Planning your trip to Macedonia, learn about habits and traditions of the locals.
The Macedonians often say 'hello' and want to speak with the tourists. But they have a habit that can be a bit confusing: the Macedonians can look narrowly at a person for a long time.
It is prohibited to smoke in public places in Macedonia. We recommend you against talks about politics especially about the breakup of Yugoslavia. Avoid asking the Macedonians about their attitude to the Albanians, Greeks and Bulgarians.  
The gestures of the Macedonians can disorient you as they differ from the European gestures. For example, the nod up and down means 'no' and the head nod from side to side means 'yes'.
Sightseeing in Macedonia
This is a country of architectural, cultural and nature sights.
The city and the lake Ohrid in southwest Macedonia are included in the UNESCO World Heritage List. Ohrid is an ancient capital of Bulgaria and there are a lot of historical and architectural monuments. In Macedonia, you can literally touch the origins of the Christianity. In Ohrid, there is the Church of St. Panteleimon built in 893 by the Saint Clement and the Church of St. Jovan Kaneo built in the 15th century. You should visit the Tsar Samuel's Fortress and the ruins of the Ancient Theatre of Ohrid where the Gladiator fights were held in the past. 
A symbol of Skopje is an ancient Stone Bridge which is depicted on the official flag of the country. The bridge passes over the river Vardar.
In Macedonian city Bitola, you can see the most ancient Jeni Mosque which is an art gallery now. The Mosque is known for its exquisite decorative ornaments and stalactites.
Macedonian Souvenirs
In Macedonia, the tourists usually buy figurines of people in national costumes or a national flag of a newly-formed state. Opanci, traditional peasant shoes, are also a popular Macedonian souvenir. You can also buy jewelry made of Ohrid pearls.
In Skopje, there is an entire shopping street. It starts at the Stone Bridge and ends near the building of an old railway station. Here, you will find malls, shops and restaurants. If you like good shopping, go to the mall Ramstore.
Not far from the Opera House in Skopje, there is a book market. This is a true paradise for collectors where they can buy the rarest books in the Macedonian, Bulgarian and Serbian.