Avila
Resort type:

Country resort

Landscape:

Town, Broadleaf Forest, Riverside, Hills

What to do:

Culinary Tourism, Golf, Wellness Tourism, Historical & Architectural Monuments, Gliding & Paragliding, Hiking, Rafting & Kayaking, Festivals & Carnivals, SPA, Religious Pilgrimage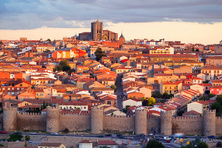 Avila is a Spanish city and the capital of Avila province in Castile and Leon autonomous community in the northwest of the country. It is 110 kilometres away from Madrid and Salamanca. The total area of Avila is 231 square kilometres.
The city is popular with the lovers of the excursion tourism as there are many unique historical and architectural monuments. WE recommend the guests of the city take a walk in the Old Town of Avila which is a UNESCO site. Other interesting sights are San Juan Bautista and Encarnacion Monastery.
The suburbs of Avila will find favour with the ecological tourists because there are many plants and trees. The tourists will enjoy the beauty of the mountains and valleys, they can also collect medicinal herbs and berries.
The shoppers can do the shopping at such malls in Madrid as Dreams Palacio de Hielo, Factory San Sebastian de los Reyes and Xanadu.
The city hotels have medical centres on site welcoming the wellness tourists. The tourists can have a massage course or spa treatments.
The annual Avila Medieval Festival attracts the lovers of the event tourism.
Staying in Avila, the extreme tourists can try their hand at trekking, rafting or kayaking, climbing and paragliding. The active tourists can play mini-golf or tennis.
The foodies will try national Spanish delicacies in such restaurants as Padel league Avila, Los Candiles and Casa Guillermo. Modern fusion cuisine is served in Soul Kitchen.
The nightlife in Avila is not vibrant. There are some clubs and bars, for example, La Casa de mi Abuela or Bar Rosy.