Manzhouli
Resort type:

City resort

Landscape:

Town, Lakes

What to do:

Culinary Tourism, Golf, Historical & Architectural Monuments, Hiking, Fishing & Spearfishing, Festivals & Carnivals, Shopping, Nightlife, Tennis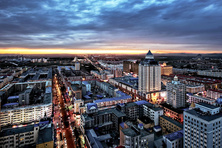 Manzhouli is a Chinese city in Hulunbuir Prefecture and Inner Mongolia Autonomous Region. The region is situated in the northeast of the country close to the border with the Russian Federation. The city is 2.065 kilometres away from Beijing and 200 kilometres away from Hulunbuir.
People come to Manzhouli for shopping. There are a lot of markets, shops, trading and office centres. The city is a popular centre of the business tourism. You will have a great shopping experience at Dongsheng Materials, Friendship, Mangou Center, and Manzhouli. You will find the goods of high quality on the upper floors of the malls. We do not recommend you buying things at street sellers.
The suburbs of a busy and noisy Manzhouli attract the ecological tourists. Not far from the city, you will find one of the largest freshwater lakes in China, Dalainor Lake. Most of its shores are swampy but there are also sandy spots which are quite good for a beach holiday. The tourists can take a walk in Beihu Park.
There is a wide choice of activities for the active tourists from fishing, rowing and trekking to playing tennis and golf.
If it is the excursion tourism you are after, you will have a chance to see such sights as Russia Taowa Square, Russia Art Museum, and Genghis Khan's Horse Pile. You can also go on a trip around the region to see the most important historical and architectural sights. The most interesting places are Shui Dong Gou Archaeological Site, Khara Khoto ruins, and Site of Xanadu. The latter is inscribed in the UNESCO World Heritage List.
The local celebrations and festivals attract many tourists. The most popular is International Ice and Snow Festival, which takes place just before the New Year.
Discover new tastes and try traditional Chinese dishes in Haima and Qin Xiang Yuan restaurants.
The nightlife is very active here. The most popular clubs are Tiandiren and Banana.