Marsascala
Resort type:

Beach resort

Landscape:

Seacoast, Flora of the Mediterranean

What to do:

Cycling, Diving & Snorkelling, Natural Parks & Reserves, Boat Trips, Historical & Architectural Monuments, Yachting & Sailing, Hiking, Fishing & Spearfishing, Surfing, Windsurfing & Kitesurfing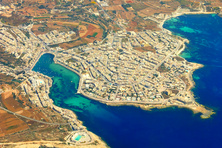 Marsascala is a resort in the eastern part of Malta. It is situated on the shore of the Marsascala Bay.
The lovers of beach holidays and the excursion tourism choose this place. On its territory, you will find medieval fortifications, but a hallmark of Marsascala is Saint Thomas Tower. The tourists can also visit De Redin Coastal Tower, see Mamo Tower and Tal-Buttar Tower. In Briconet Redoubt, there was once a police station. Now the redoubt is abandoned. The 19th century Zonqor Battery is a farm now.
The main religious sight of the resort is Church Saint Anne in Marsascala. In the town, you can also see old chapels built in the 17th - 19th centuries.
You can relax on a sandy beach in the Saint Thomas Bay. The water activities include diving and snorkelling, fishing, surfing, kiteboarding, windsurfing, sea cruises. In DiveMed, you can rent diving equipment. Sun Dawn Fishing Trips organize fishing tours and sea cruises. The active tourists can also ride an aqua bike or try water skiing, go canoeing or sailing.
In the downtown of Marsascala, you will find shops and malls offering souvenirs, food or other goods you may need. Anyone can go biking or hiking in the parks of the town. In picturesque squares, there are benches and fountains.
The restaurant Zonqor Point is famous all over Malta for its seafood dishes. In Ximo, you will enjoy the American cuisine and barbecue. Italian and French delicacies are served in Sepia.