Matera
Resort type:

City resort

Landscape:

Town, Mountains, Hills, Cliffs

What to do:

Natural Parks & Reserves, Horse Riding, Historical & Architectural Monuments, Caves, Festivals & Carnivals, Shopping, Nightlife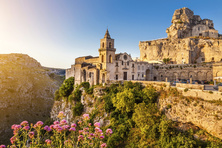 Matera is an Italian city and the administrative centre of Matera Province, situated in the south of the country in Basilicata Region. It is 250 kilometres away from Naples. The total area of the city is about 400 square kilometres.
Numerous historical and architectural monuments, cathedrals or museums of Matera attract thousands of tourists every year. The tourists can visit Sassi di Matera, a cave dwelling which was acknowledged the World Heritage property by UNESCO. The tourists will want to see Lanfranchi Palace and Dominico Ridola National Archaeological Museum.
Matera regularly holds various festivals and celebrations attracting the lovers of the event tourism. The most popular event is Santa Maria della Bruna Festival.
If you prefer the extreme tourism and outdoor activities, you can go on a tour to the local caves, go horseback riding or mountain trekking.
If you like beach holidays, you can go to a small city Metaponto situated near the Gulf of Taranto.
The ecological tourists will be interested in visiting Gallipoli Cognato National Park and Pollino Reserve. There they can watch the birds and explore the local fauna.
The local shops and malls offer a great shopping experience.
The restaurants in Matera serve the Italian cuisine and home-made wine.
Bars and clubs open their doors at night.