Mount Gambier
Resort type:

Country resort

Landscape:

Town, Lakes, Oceanfront, Volcanoes

What to do:

Culinary Tourism, Mountain Trails, Natural Parks & Reserves, Wellness Tourism, Historical & Architectural Monuments, Gliding & Paragliding, Hiking, Caves, Rafting & Kayaking, Surfing, Windsurfing & Kitesurfing, Shopping, Nightlife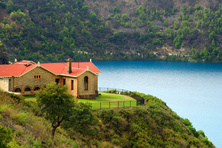 Mount Gambier is an Australian city and an administrative centre of County Grant situated at the foot of the Gambier volcano on the coast of the Indian Ocean in the southeast of the country. It belongs to South Australia State. The total area of the municipality is about 27 square kilometres. It is 426 kilometres away from Melbourne and 50 kilometres away from Millicent.
The ecological tourists prefer to stay in the suburbs of Mount Gambier. There are a lot of lakes, including the Blue Lake situated in the crater of the extinct volcano. The tourists can go to Myora Forest Reserve, Mount Gambier Forest Reserve and Nene Valley Conservation Park. Among the most interesting natural objects are such caves as Tantanoola, Gardens and Engelbrecht.
The lovers to relax on the beach can spend their time on the Indian coast. In Cape Douglas, there are the most popular local beaches. There is a wide choice of activities such as paragliding, windsurfing, rafting, and diving. The extreme tourists can try their hand at climbing and trekking or hiking on the trails Mount Gambier or Mount Schank.
The historical and architectural monuments attract those who prefer the excursion tourism. For example, they can see the Centenary Tower built in 1902.
If it is city entertainments that you are after, then you should not go past, such entertainment centres as Main Corner Complex and Gambier City Bowl. There are karaoke bars and bowling centres. The malls Mount Gambier Central and Kmart Mt Gambier invite everyone to make purchases.
The city clinics and medical centres attract the wellness tourists.
The foodies will enjoy the Australian cuisine at Metro Bakery and Presto by The Main. At 1862 Wine Bar you can participate in wine tasting.
At night, you can go to bars the most of which is in Shadow's Entertainment Complex.