Arlon
Resort type:

City resort

Landscape:

Town

What to do:

Cycling, Culinary Tourism, Golf, Horse Riding, Wellness Tourism, Historical & Architectural Monuments, Gliding & Paragliding, Hiking, Festivals & Carnivals, Shopping, SPA, Nightlife, Religious Pilgrimage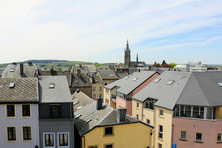 Arlon is a town in and the administrative centre of the province of Luxembourg, located in the south-east of the Kingdom of Belgium. In terms of administration, the municipality is part of the Walloon Region. The total area is 118 sq. km. It is situated 128 km from Namur and 124 km from Liege.
Arlon attracts excursion enthusiasts with ancient historical and architectural landmarks along with its centuries-old cultural traditions. When walking the streets of the town, vacationers will find such iconic sights as the Gallo-Roman defensive wall and the Monument to King Leopold II. One can also explore the exhibits of the Archaeological Museum and the Gaspard Museum housing extant Roman sculptures.
Pilgrims will find it equally interesting to make a tour of the municipality. Religious visitors will be offered to visit the Saint Donat's Church and the Saint Martin's Church.
Arlon regularly hosts regional events and exciting festivals. The Maitrank Festival and the Arlon Carnaval are popular with event tourism enthusiasts.
The region's countryside landscapes attract ecotourists and their travel companions, offering the opportunity of enjoying its picturesque surroundings and walking through the municipal Governor's Gardens and Gaspar Park.
While on holidays in Arlon, culinary tourism enthusiasts should try the original Belgium dishes offered at the restaurants Faubourg, Le Chantilly and Lunch Garden. International foods are served at La Regalade and Le Gaulois.
Wellness enthusiasts can have a massage as well as cosmetic and spa procedures available from wellness centres in Hostellerie le Claimarais Hotel.
Outdoor adventurers will have an opportunity to do horseriding, trekking, hiking, paragliding, sky jumping and cycling during. There is the golf course of Gaichel Club near the town.
Shoppers, if they wish to, can hit the shopping malls L'Hydrion and La Belle Etoile where almost anything can be found.
Nightlife in Arlon is represented by a number of discos, bars and clubs. Among these, Cotton Club and Soho English Pub rank with the best ones.