Mdina
Resort type:

City resort

Landscape:

Town, Hills, Flora of the Mediterranean

What to do:

Cycling, Culinary Tourism, Natural Parks & Reserves, Horse Riding, Wellness Tourism, Historical & Architectural Monuments, Gliding & Paragliding, Hiking, Festivals & Carnivals, SPA, Nightlife, Religious Pilgrimage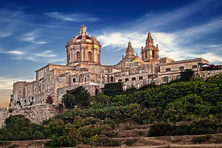 Mdina is a Maltese city situated on the territory of Northern Region in the northeast of the Republic. It is 13 kilometres away from Valetta and 4 kilometres away from Mosta. The total area of the city is 1 square kilometres.
A complex of historical and architectural monuments that have been preserved since ancient Greece are a UNESCO candidate site. The lovers of the excursion tourism can walk along the legendary streets in Mdina Old City, see the ruins of Domus Romana and go down Mdina Dungeons. The tourists can get themselves acquainted with the expositions of Palazzo Falson Historic House, Carmelite Priry Museum and National Museum of Natural History.
Study tours to the local cathedrals are arranged for the pilgrims. You should not lose a chance to see Saint Paul's Cathedral and Saint Agatha's Chapel.
In the suburbs of Mdina, the ecological tourists will enjoy a beautiful nature and see sculpture compositions in Howard Gardens. They will also have a great time in Ta Qali Family Picnic Area.
There are a lot of activities for the extreme tourists. They can go horseback riding, trekking, hiking, biking, paragliding and parachuting.
There are not so many celebrations and festivals in Mdina, but the annual Grand Prix Classic Car attracts a lot of tourists.
In the city, you can buy Maltese glass produced at Mdina Glass factory. You will find bigger shopping centres in Valetta such as Malta Crafts Center, Embassy and Urban Culture.
The foodies will treat themselves to seafood dishes in Fior Di Latte. Medina Restaurant, Fontanella Tea Garden and Sharma Ethnic Cuisines serve Mediterranean cuisine.
There is a wellness centre in Xara Palace Relais hotel offering massage and toning or relaxing spa treatments.
At night, the bars in Mdina open their doors.