Merida
Resort type:

City resort

Landscape:

Town, Riverside, Flora of the Mediterranean

What to do:

Culinary Tourism, Historical & Architectural Monuments, Festivals & Carnivals, Shopping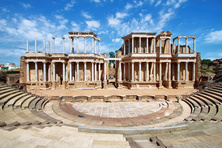 Merida is a city in Spain situated on the shore of the Guadiana River. The capital city is Extremadura. Merida is located to the west of Madrid between the Portuguese and Spanish border.
The lovers of the excursion tourism choose this city as it can be proud of its many historical monuments the majority of which belong to the Roman period. The most famous monument is Archaeological Ensemble Meridy which is inscribed on the UNESCO World Heritage List. If you want to learn more about the city and the country, visit the city museums.
Merida often holds scientific congresses and international conferences which makes it a Spanish centre of the business tourism.
Those who prefer the event tourism should plan their holidays for the festive period when different festivals, carnivals and fairs take place.
In the central part of the city, you will find a large trading area offering good shopping experience. Large malls are located in the western part of Merida.
Restaurants and cafes of Merida offer the best dishes inspired by the fantastic Spanish cuisine. Do not miss a chance to treat yourself to the Spanish delicacies.