Slanic-Moldova
Resort type:

Country resort

Landscape:

Town, Mountains, Valley, Broadleaf Forest, Riverside, Coniferous Forest

What to do:

Natural Parks & Reserves, Wellness Tourism, Historical & Architectural Monuments, Hiking, Caves, Thermal & Mineral Springs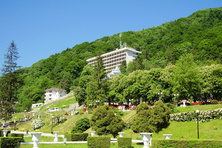 Slanic-Moldova is a unique balneological resort situated in the valley of the Slanic River surrounded by the mountain range of the Eastern Carpathians in Romania. It is 300 kilometres away from Bucharest and 84 kilometres away from Bacau.
Picturesque natural landscapes, woods or mountains attract the ecological tourists and families to Slanic-Moldova. Fir-trees and pines grow in the suburbs of the city and the woods are the habitat for bears, wild boars, foxes, wolves. In the mountain streams, one can catch a grayling or a trout. The tourists will be impressed by the places and will have the possibility to explore the local fauna or flora.
Along the shores of the river, there are mineral sources and each has its own order number. Slanic-Moldova is a well-equipped resort which offers comfortable hotels, thermal pools or bubble baths, modern medical equipment and excellent conditions for doing sports.
The health centres of Slanic-Moldova offer prevention procedures and treatment of respiratory diseases, circulatory and digestive system conditions, allergies, arthritis, rheumatisms, asthma, metabolic disorders. The guests of the resort can also have a course of a massage and visit salt caves.
The lovers of the excursion tourism can go on a trip to see the castles, monasteries and other sights of the resort.