Naantali
Resort type:

Country resort

Landscape:

Town, Broadleaf Forest, Coniferous Forest

What to do:

Culinary Tourism, Diving & Snorkelling, Natural Parks & Reserves, Wellness Tourism, Gliding & Paragliding, Amusement Parks, Hiking, Surfing, Windsurfing & Kitesurfing, Festivals & Carnivals, Shopping, SPA, Nightlife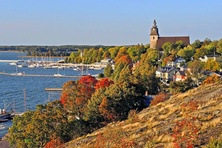 Naantali is a city, a municipality and one of the main touristic centres in Finland in the southwest of the country. It is 16 kilometres away from Turku and 180 kilometres away from Helsinki. The total area of the territory together with Luonnonmaa Island is 688 square kilometres.
Naantali is a perfect place for family holidays with children. The parents and children will have a wonderful time in Moomin World Theme Park situated on the Island of Kailo. The lovers of city entertainments will want to go shopping at such malls as Turun Hansakortteli Oy or Kauppakeskus Mylly and dancing in Ravintola Apollo, Forte, Monkey night clubs.
The wellness tourists can have toning or relaxing spa treatments and a massage in the largest Finnish wellness centre Naantali Spa.
Naantali Music Festival and Sleepy Head Day Carnival attract many tourists to the city every year.
If it is the excursion tourism you are after, then you will want to walk along the streets of Naantali's Old Town and see old wooden buildings. You will see Convent Church and Kultaranta which is a summer residence of the president of the country. You can also take a trip to neighbouring Turku and see Turku Castle or Brinkhall Manor.
The extreme tourists can go to the suburbs of the city to spend their time kiting, parasailing, surfing, windsurfing and diving in the Baltic Sea.
The ecological tourists should not go past Archipelago National Park.
The foodies will enjoy the Scandinavian cuisine in such restaurants as Merisali, Le Soleil and Ravintola Kultaranta.