Assam
Resort type:

Country resort

Landscape:

Swamp, Mountains, Broadleaf Forest, Riverside, Tropical Forest, Hills

What to do:

Natural Parks & Reserves, Historical & Architectural Monuments, Hiking, Zoos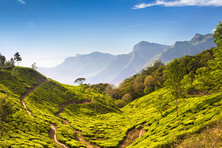 Assam is a state in the east of India. The capital city of the state is Dispur. One of the largest cities in the region is Guwahati. Assam is situated on the shore of one of the biggest rivers in Asia, the Brahmaputra River. The northern border of the state is the Himalayas and the southern border is the Shillong plateau.
Assam is a destination for ecological tourism. The tourists who like nature choose this state. On its territory, there are huge tea plantations where they grow a legendary tea Assam.
The ecological tourists will visit the national parks of the region such as the Kaziranga National Park, the Dibru Saikhowa National Park, the Manas National Park, and the Orang National Park.
The tourists with children should definitely visit the Assam State Zoo.
The lovers of excursions can take a tour across the state and visit the Kamakhya Temple, the Purva Tirupati Shri Balaji temple, and the Regional Science Center in the city of Guwahati. In the capital city of the state, the tourists will see the Agnigarh Hill, Chitralekha Udyan, and Mahabhairab Temple. Learn more about the country in such museums as the Assam Rajyik State Museum and the Tai Ahom Museum.
The Alfresco Grand Sunset Cruise and Brahmaputra Cruise offer boat tours along the Brahmaputra River.
For a shopping head to Guwahati with its Pantaloons Mall, Fancy Bazar and Uzan Bazar Fish Market. Buy souvenirs at the Sohum Shoppe, Manju Silk Center, and Gini & Jony. The best restaurants in Guwahati are Paradise, Delicacy, and Kiranshree Portico. If you like night entertainments go to the city of Sibsagar where there is the Hotel Shiva Palace Bar.