Namur
Resort type:

City resort

Landscape:

Town, Broadleaf Forest, Riverside, Coniferous Forest, Cliffs

What to do:

Cycling, Culinary Tourism, Natural Parks & Reserves, Horse Riding, Wellness Tourism, Historical & Architectural Monuments, Gliding & Paragliding, Hiking, Caves, Rafting & Kayaking, Fishing & Spearfishing, Thermal & Mineral Springs, Festivals & Carnivals, Nightlife, Religious Pilgrimage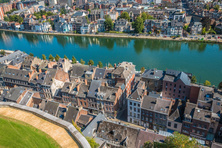 Namur is a city and the capital of Namur Province in Wallonia Region in the central part of Belgium. It is 65 kilometres away from Brussels. The total area of the city is 176 square kilometres.
Thanks to well-preserved historical and architectural monuments and a convenient location, Namur became a popular destination for the excursion tourism. The tourists will see such churches as Saint Loup Church, Notre-Dame du Rempart Chapel and Rochefort Abbey. During a walking tour, the tourists will see Place d'Armes, Congress Palace and Halle al'Chair Building.
Everyone can go on an excursion trip around the county and see the UNESCO site Belfry of Namur or such UNESCO candidate sites as Agrippa's Road, Citadel of Namur, War Memorials and Cemeteries.
You can also take a trip to Brussels.
In the city of Spa, the wellness tourists will find hot springs. The local mineral water is used to treat anemia and diseases of urogenital and locomotor systems. There are thermal centres and massage rooms on the resort.
The suburbs of Namur attract the ecological tourists who will want to go fishing or hiking in Louise-Mary Park. They can also visit such natural parks as Ardennes, Avesnois and Scarpe-Escaut.
There is a wide range of activities for the extreme tourists from horseback riding, biking, paragliding, rafting and trekking to parachuting.
The stores Delvaux, Des Hauts et des Bas and Atelier Chainiaux Quentin invite everyone to make purchases.
The lovers of the event tourism can participate in Cap Festival and Wallonia Festival.
The French cuisine is widespread in the region. The best dishes are served in L'Essentiel and Le Darville.
At night, you can have a fun time in bars Le Chapitre and L'Acoustique.