Nanning
Resort type:

City resort

Landscape:

Town, Mountains, Riverside, Tropical Forest, Hills

What to do:

Culinary Tourism, Golf, Diving & Snorkelling, Horse Riding, Wellness Tourism, Gliding & Paragliding, Amusement Parks, Yachting & Sailing, Surfing, Windsurfing & Kitesurfing, Thermal & Mineral Springs, Shopping, Nightlife, Zoos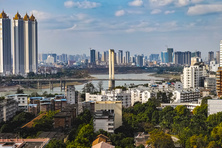 Nanning is a large Chinese city and the capital of Guangxi Zhuang Autonomous region. It occupies the territory of 112 square kilometres in the south of the country. The city is 1.200 kilometres away from Chengdu and 560 kilometres away from Guangzhou.
The city offers all the condition for good city holidays. There are billiard clubs, amusement parks Jinmanyuan Style Garden, Chenjia Yard, Xijiao Zoo, Nanning Zoo and such night clubs as Phoenix Plaza or Jinhaisha. Nanning Mengzhidao, Nanning Department Stores Building Wuxiang and Beihai He'an shopping centres invite everyone to make purchases.
The tourists can take a trip to Fangchenggang or Beihai or relax on the coast of the South China Sea. The extreme tourists can try windsurfing, snorkelling, kiting, diving or yachting. In Nanning, the active tourists can go climbing, paragliding, parachuting, horseback riding and golf.
If it is an excursion tourism you are after, you can get yourself acquainted with such sights as the building of Guangxi University and Jinhu Square or visit Yangmei Ancient Town. Take a tour around the region to visit Xingping Fishing Village and Ping'an Village.
A nickname of Nanning is a "green city" because it has a lot of trees and plants. Naturally, it became a centre of the ecological tourism. The tourists can go to Dragon's Backbone Rice Terraces, Lijiang Folk Customs Garden, Detian Waterfall, enjoy the beauty of the Yulong River, explore Reed Flute Cave and Longji Mountain.
The wellness tourism gained popularity in the city thanks to Jiahecheng hot springs the waters of which are rich in silicic acid and magnesium.
The lovers of the event tourism have a chance to participate in International Folk Song Festival.
The foodies should not go past, such restaurants as Babel, Fuji Laoyoufen and Ban XianJu.