Kakadu National Park
Resort type:

Country resort

Landscape:

Swamp, Mountains, Plain, Riverside, Tropical Forest, Bay Coast, Cliffs

What to do:

Cycling, Ancient Monuments of Civilization, Natural Parks & Reserves, Wellness Tourism, Hiking, Rafting & Kayaking, Safari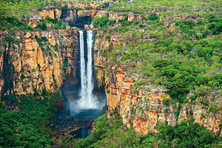 Kakadu National Park is a nature, ethnological and archaeological reserve in the north of Australia. It has access to the Van Diemen Gulf. The Park is 170 kilometres away from Darwin. Its total area is 19.804 square kilometres. Kakadu National Park is a UNESCO site.
This Park is the largest in the country and attracts the ecological tourists with its diverse landscapes and ecological systems. In the park one can enjoy the Twin Falls or Jim Jim Falls, walk along the plains, explore the everglades and river estuaries. The tourists also have a chance to watch kangaroos, warrigals, and Australian bandicoots.
For those who prefer the excursion tourism, tours to the caves are arranged. The caves still preserved important monuments of the civilisation, such as X-Ray style rock art which dates back to the 8th - 7th centuries B.C. Settlements of the indigenous people are also of a great touristic interest. These people still follow ancient beliefs and traditions.
The extreme tourists can go rafting, trekking and kayaking. Safari tours, biking and hiking tours are also arranged for the guests of the Park. If you have guts you can ride a helicopter over the Park.
A favourable ecological situation and a climate are good for the health and well-being, which makes Kakadu Park an attractive destination for the wellness tourists.
If you want to go shopping visit the malls in the city of Darwin. The most popular is Darwin Mall. You will also have a good shopping experience at Casuarina Square.
During your journey to the Northern Territory of Australia, do not go past the restaurants Darwin Ski Club and Otis & James Crepes which serve the Australian cuisine. The Indian and Thai dishes are served in Hanuman Restaurant. You can treat yourself to the typical Irish dishes in Shillelagh's.