Asturias
Resort type:

Country resort

Landscape:

Cove, Mountains, Valley, Broadleaf Forest, Riverside, Bay Coast, Cliffs

What to do:

Mountain Trails, Natural Parks & Reserves, Historical & Architectural Monuments, Hiking, Caves, Nightlife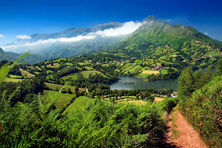 Asturias is a province in the north-west of Spain near the western Pyrenees with an access to the Bay of Biscay. Asturias borders Galicia on the west, Cantabria on the east, and Castile-Leon on the south. The administrative centre of the province is a city of Oviedo. The largest city is Gijon.
In the eastern part of the region, there is the Picos de Europa National Park. In the central region of the province the tourists will find the Redes Natural Park and on the west, there is the Somiedo Natural Park. A journey to Asturias will be especially interesting for the ecological tourists.
A picturesque coastline attracts the lovers of beach holidays and families with children.
The active tourists can try and climb the Cantabrian Mountains, go skiing or hiking up to the mountains. The extreme tourists can go canoeing across the Sella River.
There are interesting excursion programs, including acquaintance with historical and architectural sights of the province.
Young people prefer to stay in a small city Llanes, where there are many bars, night clubs, and discos.
In eateries and restaurants, the tourists will try the most delicious dishes of Asturias and a legendary cider.