Nida
Resort type:

Beach resort

Landscape:

Broadleaf Forest, Coniferous Forest, Bay Coast

What to do:

Culinary Tourism, Diving & Snorkelling, Natural Parks & Reserves, Boat Trips, Wellness Tourism, Historical & Architectural Monuments, Hiking, Surfing, Windsurfing & Kitesurfing, Festivals & Carnivals, Nightlife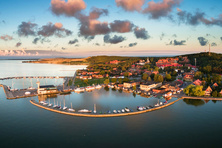 Nida is a village in Neringa situated on the coast of the Curonian Lagoon in Curonian Spit in the west of Lithuania. It is 50 kilometres away from Klaipeda and 359 kilometres away from Vilnius.
Nida is the main destination for those who prefers beach holidays. There is a sandy coast and it has a Blue Flag which is awarded for clean safe beaches. That is why, the resort attracts families with kids.
The whole territory of this place is the Curonian Spit National Park, which was inscribed in the UNESCO World Heritage List in 2000. That is why the ecological tourists love to come to Nida. They have a chance to explore its unique relief and the evolution processes in the marine and land ecosystems.
The lovers of nature can go walking in the pine woods in the outskirts of the village.
There is a great range of activities for the extreme tourists. For example, kiting, windsurfing, diving, and snorkelling. The active tourists can play mini golf, billiards, beach volleyball.
During a touristic season, Nida holds many concerts, shows, celebrations and festivals to attract the lovers of the event tourism. The most popular local event is a Nida Jazz Festival.
Soft climate and sea air enriched with pine essential oils is favourable for the health. That is why Nida is so attractive for the wellness tourists. In some hotels, they can have a massage therapy.
If you prefer the excursion tourism, you can go on a sea cruise along the coast, go on an excursion tour to Klaipeda, see some historical and architectural monuments in this place. In Nida, there is Amber Museum. If you decide to take a trip to a neighbouring city, you should visit Memel Castle and Klaipeda University Botanical Garden.
In Tik Pas Jona and Eserine Regmonida, you will enjoy seafood delicacies. At night, the clubs in some hotels open their doors.