Norfolk Island
Resort type:

Country resort

Landscape:

Broadleaf Forest, Island, Oceanfront, Tropical Forest, Coniferous Forest

What to do:

Culinary Tourism, Golf, Diving & Snorkelling, Natural Parks & Reserves, Boat Trips, Wellness Tourism, Hiking, Caves, Fishing & Spearfishing, Surfing, Windsurfing & Kitesurfing, Festivals & Carnivals, Shopping, SPA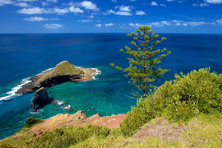 Norfolk is an Australian National Park occupying the territory of the Norfolk Island on the south of the Pacific Ocean and such neighbouring islands as the Nepean Island and the Phillip Island. The total area of the Park is 6.5 square kilometres.
Old forests in the Park and many endemic plants attract the ecological tourists to the Norfolk Island. During your tour, you can walk in a tropical forest, see endangered Norfolk parrots and white-eyes. The guests of the island can also visit Botanic Gardens.
The Pacific coast is very popular with the fans of the extreme tourism. The active tourists can go swimming or snorkelling in many bays and lagoons of the island. Underwater caves and intricate volcanic formations are of a great interest for the divers. The tourists have a chance to go fishing in the open ocean, play tennis in Cheryl's Club, go windsurfing, kiting and play golf in Norfolk Island Golf Club.
The majority of the historical and architectural monuments can be found in Kingston. Those who prefer the excursion tourism will want to visit Protestant Chapel Maritime Museum and Saint Barnabas Church. The Kingston and Arthur Valley Historic Convict Site is one of the Australian Convict Sites which is under UNESCO protection.
You will have a great shopping experience at Norfolk Island Department Store.
Norfolk regularly holds such events as Bounty Day and Thanksgiving Day celebration. The tourists, especially love to participate in Jazz in the Pines and Country Music Festival.
The wellness tourists can have spa treatments in Cumberland Resort & Spa. 
 Dino's at Bumboras, Pa Yea's and Blue Bull restaurants serve the traditional island cuisine.
The nightlife on the island is not very active. The most popular local bars are MiniBar and Longridge House.