Norefjell
Resort type:

Ski resort

Landscape:

Mountains, Coniferous Forest

What to do:

Downhill Skiing, Wellness Tourism, Snowboarding, SPA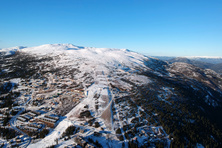 Norefjell is the oldest ski resort in Norway. It is situated in the centre of Kreder Fjord 106 kilometres away from Oslo. Norefjell is situated at the highest point of the Northland Peninsula. The height differences are the greatest in Southern Norway and they are about 1.010 meters. The best time for coming here is from December to April.
The skiing trails here will suit the skiers with any level of skills. Both professional skiers and beginners come here. There is a skiing school and instructors. The length of the trails is 23 kilometres. There are 10 chairlifts. There are 120 kilometres of trails for cross-country skiing in Norefjell. You will also find here a half pipe, a snow-park, a springboard for snowboarding and trails for border crossing.
This resort offers a unique entertainment. You can try and ski 4-meters ski. Five people can ski simultaneously. You can also ride a snowmobile and go snowshoeing.
If you prefer the excursion tourism, you can go on a trip across Kreder Fjord and see a large wooden villa Fridheim built at the end of the 19th century in a national romantic style.
You will have a good shopping experience in the city of Honefoss which is 50 kilometres away from the resort. In the Kuben mall, you will find a great choice of local and foreign products.
Fjellhvil Hotell is the oldest hotel in the region. It was first opened in 1901. It is situated at the height of 750 meters and is the highest in Norefjell.
The Mountain Lodge Norefjell has a spa complex offering balneological treatment, massage and a sound or light therapy for the wellness tourists. For kids, there is a playing room.
Norefjellstua is the most popular restaurant. It serves such traditional dishes inspired by the Norwegian cuisine as fenalar, farikal and pinnekjøtt. Those who have a sweet tooth will enjoy a dessert of whipped cream and cloudberry Multecrem.