Oppland
Resort type:

Ski resort

Landscape:

Mountains, Canyon, Lakes, Riverside

What to do:

Culinary Tourism, Downhill Skiing, Wellness Tourism, Historical & Architectural Monuments, Hiking, Rafting & Kayaking, Snowboarding, Festivals & Carnivals, Shopping, SPA, Nightlife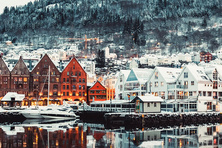 Oppland is a Norwegian administrative region in the south of the country. It borders More og Romsdal, Sor-Trondelag, Sogn og Fjordane, Hedmark, Buskerud, Oslo and Akershus. The capital city is Lillehammer.
The ski resorts of Oppland are very popular with the extreme tourists. Skeikampen Ski Resort in Gausdal Commune is for more experienced skiers. There are 17 skiing trails and 9 chairlifts. The tourists with children prefer Kvitfjell Ski Resort. Hafjell Ski Resort on the Olympic Arena offers the widest range of activities for the active tourists. The guests of the resort can go alpine skiing, skating, snowboarding and sledding. The tourists can also go snowshoeing or ride a snowmobile.
Picturesque mountain landscapes and clean lakes attract the lovers of the ecological tourism throughout the year. They can go on a rafting tour on the Begna river, enjoy the Dovrefjell and Rondane peaks. Anyone can go climbing, go on a boat tour along the Randsfjorden Lake or the Mjosa Lake or explore the Helvete canyon.
If no journey is complete for you without excursions, you will want to go on an excursion tour to see the most important historical and architectural monuments. Among them is Gjovik Church, Saga Column, Sor-Fron Church, Sigrid Undset's Home Bjerkebaek.
The event tourism is developed here, thanks to such events as Lillehammer Classic Rock Festival and Norwegian Festival of Literature.
Quality Hotel Strand Gjovik, Gudbrandsgard Hotel and Thon Hotel Sjeikampen have wellness centres on site offering spa treatments, massage, sauna, bath, pools.
The best place for shopping is Strandtorget Shopping Centre in Lillehammer.
The foodies will enjoy the dishes inspired by the traditional Norwegian cuisine in Helvet and Nikkers restaurants.
The best nightclubs in Lillehammer are Nikkers 2 and GhettoKaken.