Are
Resort type:

Ski resort

Landscape:

Mountains, Coniferous Forest

What to do:

Downhill Skiing, Fishing & Spearfishing, Safari, Snowboarding, Shopping, Nightlife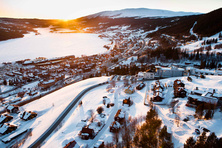 Åre is a popular ski resort in Sweden. It is situated in the north of the country in Jamtland County.
The tourists who some here typically stay in one of the four villages: Duved, Åre By, Tegefjall or Åre Bjornen. There is a taxi running between the villages. The length of the trails is 100 kilometres. The height difference is 900 meters. In Åre, there are 5 skiing zones which suit both the beginners and professionals. There are also over 30 chairlifts and a cable railway.
The guests of the resort can go alpine skiing or cross-skiing, snowboarding and snowkiting, snowmobile safari, sledding or ice fishing. If you want to feel a rush of adrenaline, you can fly a helicopter or try parachuting. You will surely be impressed by the beauty of Tannforsen waterfall.
The lovers of shopping and night entertainments will want to go to Åre By with its malls, clubs and restaurants.
Duved and Tegefjall villages are ideal for the lovers of snowboarding.
The tourists with children prefer to stay in Are Bjornen. There is a nursery accepting children as young as 4 years old, a ski school for kids and special chairlifts for young skiers.
The favourite place of all the foodies is Fjällpuben where the game is served. The hallmark of the restaurant is swimming in a wood fired swimming pool heater.