Auschwitz
Resort type:

City resort

Landscape:

Town, Riverside

What to do:

Historical & Architectural Monuments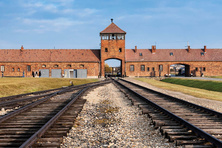 The Auschwitz concentration camp is the largest complex of fascist concentration camps operating in the period from 1940 to 1945 near the Polish city Oswiecim. It is situated in the southern part of Poland 60 kilometres away from Krakow.
Since 1947, in Oswiecim the Auschwitz-Birkenau State Museum has been working. The museum was inscribed on the UNESCO World Heritage List. In this memorial complex, the tourists can follow the way of the prisoners of the World War Two, take a look in the barracks, crematoria, see gas cameras, and the wall against which the prisoners were executed. The museum left the personal belongings of the prisoners untouched. These things were confiscated and piled up. The Auschwitz is not only a group of historical monuments, but this is also a mass grave site. Many tourists come to the camp to honour the memory of their relatives killed. So one of the rules in the Museum is to keep quiet.
Those who prefer city entertainments should visit Krakow and its shopping centres such as Galeria Krakowska and Solvay park, a golf field Krakow Valley and night clubs Frantic, Taboo, and Prozak 2.0.
The main destination for ecological tourism is the Krakow Valleys Landscape Park, which is 50 kilometres away from Oswiecim.
The Life Festival Oswiecim attracts many tourists.
The extreme tourists can go fishing, windsurfing, kitesurfing, and swimming in the Black Pond. Walking tours across the region are arranged for the tourists. Biking and horseback riding are very popular among the tourists as well.
The travellers can stay in such hotels as Zajazd Skorpion and Kamieniec. In a hotel Galicja, there is a wellness centre where one can have relaxing and toning spa treatment.
You can treat yourself to Polish traditional dishes in the restaurants Chata Na Zaborskiej and La Rosa.