Ostend
Resort type:

Beach resort

Landscape:

Town, Seacoast, Lakes, Plain

What to do:

Culinary Tourism, Golf, Diving & Snorkelling, Natural Parks & Reserves, Casinos, Horse Riding, Wellness Tourism, Historical & Architectural Monuments, Gliding & Paragliding, Yachting & Sailing, Hiking, Fishing & Spearfishing, Surfing, Windsurfing & Kitesurfing, SPA, Nightlife, Oceanariums & Dolphinariums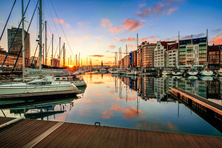 Ostend is a city and the administrative centre of the Province of West-Flanders in Belgium, situated on the coast of the North Sea in the northwest of the country. The city belongs to Flemish Region. The total area of the municipality is 37 square kilometres. It is 62 kilometres away from Ghent and 138 kilometres away from Brussels.
In summer, Ostend is the main destination for the lovers of the beach holidays who like to sunbathe on the golden sand of the North Sea coast. The beaches on the west of the city are the most popular. There is a wide choice of activities such as diving, kiting, windsurfing, surfing, yachting and sport fishing. The extreme tourists can try their hand at horseback riding, parachuting, paragliding and hang-gliding.
The picturesque landscape of the suburbs is rich in rivers or lakes and attracts the ecological tourists to the city. They can take a walk to such parks as Flamincka and Maria Hendrikapark, enjoy the beauty of the Roksemput lake, explore the ecological systems typical for this region.
Those who prefer city entertainments will not be disappointed. There is a North Sea Aquarium, Wellington hippodrome and a golf field which belongs to the Wellington club.
Ostend is well-known among the lovers of the excursion tourism because it has a lot of museums, historical and architectural monuments. The tourists will see a legendary Fort Napoleon, Saint Peter Church, study the expositions of such museums as Atlantic Wall, Schip Amandine and James Ensor House.
Villa Aqua Hotel has a wellness centre on site offering massage, toning and relaxing spa treatments.
The foodies should not miss a chance to treat themselves to the seafood delicacies in Lobster restaurant and Belgian dishes in Eclips at Sea, St. Tropez, Bentley's.
If you do not want to stay in the hotel room at night, you can go to bars and nightclubs. Try your luck in gambling in Kursaal casino.