Ohrid
Resort type:

Beach resort

Landscape:

Town, Mountains, Lakes, Coniferous Forest, Cliffs, Flora of the Mediterranean

What to do:

Mountaineering, Cycling, Culinary Tourism, Golf, Downhill Skiing, Diving & Snorkelling, Boat Trips, Historical & Architectural Monuments, Yachting & Sailing, Hiking, Fishing & Spearfishing, Surfing, Windsurfing & Kitesurfing, Snowboarding, Festivals & Carnivals, Nightlife, Religious Pilgrimage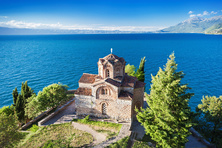 Ohrid is a city in the South-West Region of the Republic of Macedonia situated in the east. It is 170 kilometres away from the capital city Skopje. The municipality and the lake have been inscribed in the UNESCO World Heritage List.
Closeness to the lake makes Ohrid a popular place with the lovers of beach holidays. About 30 kilometres of the coast are covered with clean sand and well-equipped. The shallow waters make the beach an ideal place for families with children. There are hotels and campings along the coast.
The extreme tourists can take yachting and sailing lessons, try their hand at diving, snorkelling, windsurfing or kiting. Anyone can also ride catamarans or scooters and play beach volleyball.
The active tourists will want to go fishing, go on a cruise along the lake, go biking, play golf or tennis. As Ohrid is situated in the mountainous area, the tourists will have a chance to go trekking and climbing, alpine skiing and snowboarding in winter.
Those who prefer the excursion tourism will not be disappointed. In Ohrid, there are many cathedrals, UNESCO historical and architectural monuments, natural sights. You can go on a walk excursion tour around Ohrid and get yourself acquainted with the local architecture, Greek Amphitheater, Samuil's Fortress. The pilgrims should definitely visit the Church of Saint Kliment and Saint Panteleimon.
Ohrid regularly holds cultural events, celebrations and festivals attracting the lovers of the event tourism. You can participate in Ohrid Summer Festival and Balkan Folklore Festival.
The foodies will enjoy the dishes inspired by the traditional cuisine in the local restaurants.
The nightlife is active in hotel bars and clubs.