Pavel Banya
Resort type:

Country resort

Landscape:

Town, Mountains, Valley, Broadleaf Forest, Lakes, Riverside, Coniferous Forest

What to do:

Cycling, Culinary Tourism, Ancient Monuments of Civilization, Natural Parks & Reserves, Horse Riding, Wellness Tourism, Hunting, Historical & Architectural Monuments, Hiking, Rafting & Kayaking, Fishing & Spearfishing, Thermal & Mineral Springs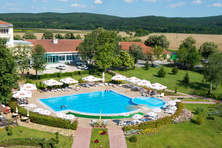 Pavel Banya is a Bulgarian resort situated in the Stara Zagora Province in the central part of the country. It is 22 kilometres away from Kazanlak and 185 kilometres away from Sofia. The total area of the city is over 500 square kilometres.
This is a popular destination for the wellness tourism because there are mineral and thermal sources. Balneological centres in Pavel Banya offer treatments of peripheral and central nervous system or locomotive system disorders. Medical specialists help people to rehabilitate after an injury.
The ecological tourists also love to come here. Fantastic nature of the suburbs helps to escape the noise and the fuss of large cities. The tourists can walk in the Central Balkan National Park, visit Koprinka Reservoir and go hiking along the White River Eco-trail.
The extreme tourists can go rafting, kayaking, biking or horseback riding. The active tourists can go fishing or hunting.
Soft climate, clean air and calm atmosphere make Pavel Banya a good place for the tourists with children.
In Pavel Banya, there are the monuments of ancient civilizations, museums and cathedrals. So, the lovers of the excursion tourism will not be disappointed. We recommend going to Thracian Tomb of Kazanlak which is a UNESCO site. Another interesting sight is Memorial Temple of the Birth of Christ in Shipka.
On the resort, you will find some small grocery stores and souvenir shops. To have a good shopping, go to Sophia.
The foodies will get acquainted with traditional Bulgarian cuisine in the restaurants in hotels and in the city.
Nightclubs, bars and pubs are also found in hotels.