Panichishte
Resort type:

Ski resort

Landscape:

Mountains, Lakes, Coniferous Forest

What to do:

Mountaineering, Downhill Skiing, Natural Parks & Reserves, Wellness Tourism, Hiking, Snowboarding, Thermal & Mineral Springs, Tennis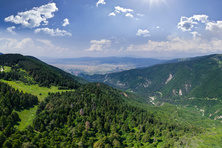 Panichishte is a Bulgarian ski resort and a sports centre. It is situated on the territory of the Rila Mountains and borders Rila National Park. The village is situated 1.350 meters above the sea.
For the lovers of winter outdoor activities, there are several trails for the skiers with different skills. They all have chair lifts. There is also a ski school for children as well as special trails for them. The tourists can go cross-skiing, sledding and snowboarding. The extreme tourists can go climbing or trekking. In summer, Panichishte becomes a starting point for those whose destination is Rila National Park. The hiking routes lie along the Seven Rila Lakes. The tourists can stay in one of the mountain huts.
Near the Dry Lake, you will find a sports camp where you can play volleyball, basketball, tennis or football. Those who stay in the local hotels can swim in a pool, go to sauna or have a hot tub.
A balneological centre Sapareva Banya is 10 kilometres away from the village. It has the only geyser on the Balkans. Hot mineral sources attract the wellness tourists. One kilometre from Sapareva Banya are the ruins of Germaneya settlement and Church of Saint Nicholas.
Hearty dishes of the Bulgarian cuisine are served in Restaurant Panichiste.