Pardoo Station
Resort type:

Country resort

Landscape:

Oceanfront

What to do:

Culinary Tourism, Diving & Snorkelling, Natural Parks & Reserves, Wellness Tourism, Gliding & Paragliding, Yachting & Sailing, Hiking, Fishing & Spearfishing, Surfing, Windsurfing & Kitesurfing, SPA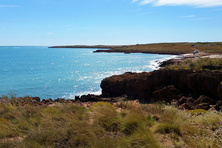 Pardoo Station is a natural territory with the total area of 2.000 square kilometres. It is a working cattle station, which is situated on the coast of the Indian Ocean in the northwest of Australia between Marble Bar and Port Hedland. It belongs to Pilbara Region and Western Australia State.
The picturesque landscapes and natural diversity make Pardoo a popular destination for the ecological tourism. The tourists will have a chance to walk around the place, watch wild and domestic animals. There are exotic tours to Pardoo Mine in Mount Goldsworthy. The Great Sandy Desert known for its red dunes also attracts the tourists.
The lovers of beach holidays can sunbathe on the coast of the ocean. The most popular is Eighty Mile Beach where one can go sports fishing, snorkelling and diving. The extreme tourists can try their hand at paragliding or parachuting.
There are no significant historical or architectural monuments on this territory. However, those who prefer the excursion tourism can go on a tour to the neighbouring Port Hedland. Among the most interesting sights is Town Observation Tower and Koombana Lookout. Don Rhodes Mining Museum, Courthouse Gallery and Dalgety House Museum have interesting expositions.
Esplanade hotel has a wellness centre on site where you can have massage or spa treatments.
In Pilbara Room, Pretty Pool Prove dore and Kath's Kitchen restaurants, you will try traditional Australian dishes.
At night, bars in the hotels open their doors.