Picardy
Resort type:

City resort

Landscape:

Valley, Riverside

What to do:

Cycling, Golf, Horse Riding, Wellness Tourism, Historical & Architectural Monuments, Hiking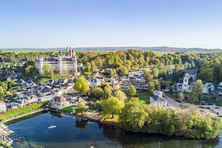 Picardy is a historical and cultural region in the north of France. It consists of three departments: Oise Department, Aisne Department and Somme Department. The administrative centre is Amiens. The large cities of Picardy are Abbeville and Compiegne. The region lies to the south of the La Manche Channel and borders Ile-de-France or Nord-Pas-de-Calais.
A favourable climate and clean beaches attract the lovers of beach holidays and families with kids. In Picardy, there are many clinics offering treatments and preventive procedures. The air rich in iodine also has a favourable effect on the health.
Those who prefer the excursion tourism will see historical and architectural sights of the region, many of which are inscribed on the UNESCO World Heritage List. In small villages in Picardy, you will get yourself acquainted with the culture, traditions and everyday life of the local people.
The active tourists can try water activities, hang-gliding, horseback riding, hiking or biking, play golf or do archery.
The best eateries and restaurants of the region offer traditional dishes inspired by an exquisite French cuisine.