Pogradec
Resort type:

Beach resort

Landscape:

Town, Mountains, Lakes

What to do:

Natural Parks & Reserves, Wellness Tourism, Historical & Architectural Monuments, Hiking, Sport Tourism, Shopping, Nightlife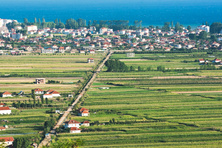 Pogradec is a city in the east of Albania in Korca Region. Pogradec is the administrative centre of Pogradec County. The resort is situated at the foot of the Mokra mountain on the shore of the Ohrid Lake.
The lovers of the excursion tourism will see such sights of the city as the Royal Tombs of Selca e Postme, Golik Bridge and Pogradec Castle. If you like ancient architecture, then do not miss a chance to see Christian Basilica and Egnatia Ancient Road.
In Pogradec there is a Lin Mosaic Museum having an interesting exposition.
The ecological tourists will visit the Driloni National Park or will go on a tour along the Ohrid Lake. This lake is a unique sight of the Balkan Peninsula and is inscribed in the UNESCO World Heritage List. Here you will find a lot of sports and touristic centres.
Go shopping at Materiale Ndertimi mall. Market Bli Shqip, Butik Mardor and Digitalb Pogradec also invite everyone to make purchases. You will get yourself acquainted with the Albanian cuisine in such restaurants as Dallga, Vila Feniks and Restaurant Pogradeci. If it is the nightlife you are after, then go to Depo Complex.