Albania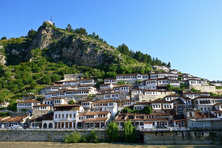 Albania or the Albanian Republic is a country on the southeast of Europe. The country borders Greece, the Republic of Macedonia, Kosovo and Montenegro. On the west, it is washed by the waters of the Ionian Sea and Adriatic Sea. The capital of Albania is Tirana.
The western part of the country has a subtropical Mediterranean climate, in the eastern, part the climate is temperate continental. The best time for a beach holiday in Albania is summer. If you want to see historical and architectural monuments or go to the mountains, come to Albania in late spring and early autumn.  
The official language is Albanian and it has two local dialects. The majority of the population are the  Muslims (mainly of the Sunni branch) but there are also Orthodox and Catholic Christians.  
Albania attracts tourists by its numerous ancient monuments and the coast line with good beaches. Some tourists come to Albania to enjoy its nature and the mountains.
The most popular sea resorts are Vlore, Saranda and Shengjin. You will find good beaches on the Ohrid lake and Shkodra lake. The Albanian sea coastline is attractive for divers as there are sunken ships and other underwater objects.
Excursions are available not only in Tirana but also in such cities as Berat, Vlora, Gjirokastër, Durrës, Korçë, Kruje, Pogradec, Shkodër and Elbasan.
A trip to Albania is a good chance to try mountain river rafting. Mountains also attract those who love biking and hiking. If you like fishing, spend some time on one of the numerous lakes and rivers in Albania.  
Get in
By Plane
There are regular flights between Albania and its neighboring countries and the largest European airports. There are no direct flights from the CIS countries to Albania. The most convenient way to get to Albania is a flight with a stop in Istanbul, Rome, Brussels or in one of the neighboring countries. 
By Bus or By Car 
The tourists can get to Albania by bus or by car from the territory of the neighboring states. Albania does not have a railroad communication with its neighbors.
By Ferry
There are regular ferry routes between the main Albanian port Durrës and some ports in Italy and Corfu. The tourists can combine their rest on Italian and Greek resorts with their holidays in Albania.   
Visa
The citizens of almost all European countries and Kazakhstan, Armenia and Azerbaijan can travel to Albania without a visa and stay in the country for 3 months. The exception are the citizens of Belarus, Georgia and Russia. The tourists from these countries can spend their time on the territory of Albania without a visa only during summer (from June 11 to November 1) and the total period should not exceed 90 days. If you have a used Schengen, American or British visa, the exemption from the visa requirement is also applied to you. 
The tourists from Belarus, Georgia and Russia who want to travel to Albania in winter and the citizens of Central Asian CIS countries need to apply for the visa in the nearest Albanian embassy.
Usually, it takes 7 days to get the visa to Albania. 
Customs
It is strictly prohibited to import and export cash in national currency. Foreign currency is allowed in Albania in any amount but it is better to declare large amounts of cash because you will be able to export more than $5.000 only in case this sum was declared.
Tourists can export to Albania free of duty:
small amounts of alcohol and tobacco;
perfume for personal use;
any personal things (jewelry, appliances, sports equipment).
It is prohibited to export:
Any informational materials abusing the local traditions.
It is not allowed to import from Albania:
Objects of art and antiquities including the stones from the archeological sites;
Precious metals. 
Cuisine
In the Albanian cuisine, there still remained the Illyrian cooking traditions which were under a great influence of the Italian, Slavic, Greek and especially Turkish cuisines. The Albanian chefs masterfully balance the use of vegetables and meat in their dishes.
We recommend trying Mish Shqeto (stewed mutton with parsley), Tavë kosi (roasted mutton with rice and sour cream) and Qofte të fërguara (meat patties).
One of the most famous Albanian dishes is chicken with nuts Gjelle Me Arra.
The foreigners should also try traditional soups such as Tarator (cold sour milk soup), Trahana (thick fermented wheat and yogurt soup) and Jahni (beans soup).
The Albanians also eat sea and fresh-water fish. The tourists will be served Sardele me Limon (fried sardines with lemon), Tava e krapit (stewed carp) and Tave korani me arra (baked trout with nuts).
Of course, in your trip to Albania you cannot but try traditional vegetable dishes such as Dolma (stuffed vegetables), Fërgesë (stewed vegetables with beef), Byrek (a vegetable pie) and various vegetable salads.
For a dessert, you will be served mainly Arabic sweets and pastry which were borrowed from the Turkish cuisine as a result of the centuries of the Ottoman rule. Try Halve, Revani me sherbet (cake), Tollumba (sweet pastry), Bakllava, and Llokume (traditional Turkish candies). There are some authentic Albanian recipes: Tambeloriz (rice pudding), Shëndetlie me mjaltë (a sweet cake), and Kabuni (rice dessert).
We would definitely recommend  local traditional drinks Dhale and Kos (fermented milk drinks), herbal tea Caj Mali and fermented wheat drink Boza which contains up to 1% of alcohol.
Albania has a developed wine sector of industry and can offer rather good white and red wines. Among the strong drinks, try Albanian vodka Raki and local cognacs. 
Money
The official currency in Albania is the Albanian Lek or ALL. Banknotes of denomination from 100 to 5.000 Leks and coins from 1 to 100 Leks are in circulation. 
In your trip to Albania, you can exchange foreign currency in banks, exchange offices and some hotels. We do not recommend to exchange the money with people offering their services right on the streets. Almost in all places, American dollars and Euro are accepted.
The use of credit cards is very restricted, you can use them only in some hotels and restaurants.
You can cash travellers checks only in banks.
In Albania, there are many ATM's, especially in large cities.  
Details of interest
Sightseeing in Albania
In Albania, there are two sites from the UNESCO World Heritage List:
The Butrint National Park near the city of Saranda. There you can see the ruins of the ancient Greek colony which later became an ancient Rome city and then the part of Byzantine and Venice Empire. This place demonstrates the architectural evolution and the city planning scheme during each historical period.  
Old cities Berat and Gjirokastër is a rare example of survived Ottoman Empire cities. Both sites have numerous building of that epoch from public buildings to houses of people. 
Being in Albania, you cannot miss the chance to see, at least, one of the four World Heritage Candidates:
Royal Tombs of Selca e Poshtme near the town of Pogradec;
The Amphitheatre of Durrës;
Natural and Cultural Heritage of the Ohrid Region;
Ancient Greek town Apollonia in the Fier region.
Of course, being in Albania you can visit any sites which are not included in the UNESCO but they are also very interesting for the tourists:
Kaninë Castle Kaninë near Vlorë.
Karaburun-Sazan National Marine Park;
The Ancient village of Voskopoje near the city of  Korçë;
The water spring Blue Eye near Saranda;
Krujë Castle;
Osumi Canyon in the Berat region;
Kalaja E Elbasanit;
Numerous cold-war bunkers.
Albanian Souvenirs
The tourists bring from Albania the following souvenirs:
jewelry;
Albanian wines;
olive oil;
Albanian ethnic souvenirs.