Port-of-Spain
Resort type:

City resort

Landscape:

Town, Tropical Forest, Bay Coast

What to do:

Cycling, Boat Trips, Historical & Architectural Monuments, Amusement Parks, Yachting & Sailing, Hiking, Fishing & Spearfishing, Surfing, Windsurfing & Kitesurfing, Shopping, SPA, Nightlife, Zoos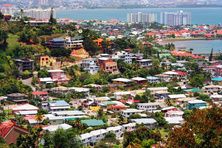 Port-of-Spain is the capital of Trinidad and Tobago.
The active tourists who prefer outdoor activities like to come here. Those who want to relax on the beach should go to Maracas Bay city beach. There are all the conditions for such water activities as sailing, yachting, surfing and kiteboarding, riding an aquabike or scooter. The tourists can also go on a sea cruise or fishing.
Exotic nature and clean mountain air attract the lovers of the ecological tourism. Avifauna Tours organizes excursions to the local parks.
The natural treasure of Port-of-Spain is Queen's Park Savannah. There are running, hiking and biking paths in the park. In Royal Botanical Gardens, you can see exotic plants.
The city preserved many architectural monuments reflecting the Islamic, Christian, and Hindu traditions. The tourists will see the Hindu temples, Muslim mosques and Christian churches. The architectural hallmark is Holy Trinity Cathedral, built in the middle of the 18th century in a Gothic style.
You will learn more about the history of the country in the local museums, including the National Museum of Port-of-Spain. If you come here with kids, go to Emperor Valley Zoo or Bedrock and Game Center. After walking hours around the city, relax in Le Visage Spa.
Falls at Westmall invites everyone to make purchases. On the territory of the mall, there are boutiques selling goods by European brands. In the mall, you can entertain yourself: there is a skating rink, a cinema and a food court. You will find goods for more attractive prices at Long Circular Mall with many Chinese shops.
The Italian and French cuisines are served in Aioli. Jaffa at the Oval offers the Caribbean cuisine. In Texas de Brazil, you will try dishes inspired by the Brazilian cuisine. At night, Spektakula Forum nightclub opens its doors.