Rhineland-Palatinate
Resort type:

Country resort

Landscape:

Mountains, Valley, Broadleaf Forest, Lakes, Riverside, Coniferous Forest, Hills, Cliffs

What to do:

Cycling, Golf, Mountain Trails, Natural Parks & Reserves, Casinos, Boat Trips, Wellness Tourism, Historical & Architectural Monuments, Hiking, Fishing & Spearfishing, Thermal & Mineral Springs, Festivals & Carnivals, Shopping, Zoos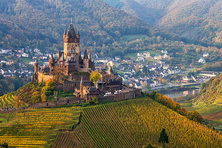 Rhineland-Palatinate is a German federal land situated in a picturesque Moselle Valley in the southwest of the country. It is located in Middle Rhine and surrounded by the Westerwald, Eifel, Hunsruck mountain ranges. The administrative centre of the territory is the city of Mainz. The large cities are Ludwigshafen, Trier and Koblenz.
A stunning nature of Rhineland-Palatinate attracts people who love outdoor activities. They can go trekking and hiking or climbing. Calmont Klettersteig is one of the most popular excursion routes.
In summer, the tourists like to go fishing. Anyone can also go kayaking or go on a cruise along the Rhine River. The cruises are organized by Rhine River Day Cruises.
The extreme tourists can ride jeeps or mountain bikes, try hang-gliding or ride a hot-air balloon.
The natural beauty of the region makes it attractive for the wellness tourists. Rhineland-Palatinate is famous for its volcanic lakes with medicinal water and geysers. The most visited is Andernach Geysir.
This German land can boast of its historical and architectural monuments. A famous sight of the region is Shpayersky Cathedral. This is the largest Roman church in the world and is a UNESCO site.
Those who prefer the event tourism should go to Mainz. From November to April, carnivals and celebrations take place in the city.
The Cathedral of Trier is an acknowledged masterpiece of the Roman architecture. Families with kids will have a great time in the Trampoline Trier entertainment center.
The guests of the region can try their luck in a casino, go to bowling centre or play golf.
In Rhineland-Palatinate is a vineyard land. The famous wine Liebfraumilch is produced here.
You will have a good shopping experience at Rhein-Galerie mall in Ludwigshafen. There you will find dozens of boutiques offering various products.