Ribe
Resort type:

City resort

Landscape:

Town, Seacoast, Riverside

What to do:

Culinary Tourism, Diving & Snorkelling, Natural Parks & Reserves, Wellness Tourism, Historical & Architectural Monuments, Yachting & Sailing, Hiking, Rafting & Kayaking, Fishing & Spearfishing, Surfing, Windsurfing & Kitesurfing, Shopping, SPA, Religious Pilgrimage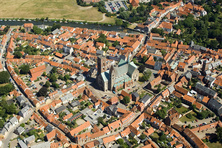 Ribe is a Danish city in Esbjerg Municipality in Region of Southern Denmark. It is situated on the coast of the North Sea in the southwest part of the country. The total area of the city is about 350 square kilometres. It is 31 kilometres away from Esbjerg and 55 kilometres away from Kolding.
In Ribe, there is the residence of the Lutheran Church, which makes the city a centre of the pilgrimage. The tourists can go on a study tour to see the main churches of the city, including Cathedral of the Diocese and Ribe Domkirkes Borgertaarn built in the 12th century.
Ribe is the oldest city in Denmark, which preserved many historical and architectural monuments. The tourists will want to walk around the downtown and see such sights as Ambrosius Stub, Stormflodssojlen, Statue Hans Tausen, Hans Tavsens Hus. You can also visit Museum Ribes Vikinger, Ribe Kunstmuseum and Naturdstilling Mando.
The suburbs of the city will find favour with the ecological tourists. They can take a walk in Villeboel Hobby og Have, visit Dyrehaven Ribelund farm, watch the seals and the birds in the Wadden Sea National Park, which is under UNESCO protection.
On the beaches of Ribe, the tourists can go fishing, diving and snorkelling. In leeward parts of the coast, the active tourists can go yachting, kiting, windsurfing and sailing.
The foodies will treat themselves to seafood delicacies and traditional Danish dishes in the best restaurants of the city such as Mando Kro Restaurant, Peking House, Restaurant Dagmar.
Ribe Byferie has a wellness centre on site offering massage and relaxing spa treatments.
In the hotel shops, you can buy souvenirs and the necessary goods. You will have a great shopping experience at the Esbjerg Storcenter mall.
At night bars in the hotels open their doors.